Date: Thursday, February 16, 2017
Time: 6:00pm - 8:00pm
Location: The Georgian Club, 100 Galleria Pkwy, #1700, Atlanta, GA 30339
Earn 1 PDU!
Join us for our networking event! Meet PMI Atlanta leadership, members, and peers.
Presentation: "Generations in the Workplace" presented by Dethra U Giles, ExecuPrep
Space is limited. Snacks and non-alcoholic beverages will be provided. Cash bar is available.
---
Presentation Details:

For the first time in history we have five generations actively in the workplace. While the diversity of a multigenerational workplace is great for customer service and relations the reality of the difference can cause conflict. In this session participants will learn about the five generations, typical characteristics and how to best relate for the purposes of improving team performance.
Talent Triangle Category: Leadership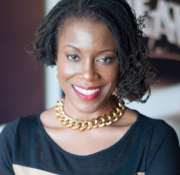 Dethra U. Giles is a speaker, author, coach and HR Strategist. Her unique method of conveying a lesson has reached audiences all over the globe and continues having a lasting impact on companies large and small. As the leading strategist and Chief Bridge Architect at ExecuPrep, LLC she and her team help clients build their bridge from "I want to be" to "I am." Dethra helps her clients optimize revenue, employees, actions and leadership to move their performance needle from average to optimize.
Whether conducting strategic planning with C-Suite executives, speaking at a national conference or consulting one on one with the owner of a manufacturing company, Dethra strives to help her clients turn challenges into opportunities and stumbling blocks into stepping stones.
Through her consulting, training and coaching, Dethra has motivated clients from the National Basketball Association, the Centers for Disease Control (CDC), the Army Corp of Engineers and the Salvation Army. Dethra uses her formal business education, years of experience and the process improvement strategies to motivate, empower and move clients to their desired outcomes. As an author Dethra has taken her message to the masses. She has shared her knowledge as a contributing writer on human resources and professional development topics for Today's Financial Woman, YBE, and iWorkwell publications. She has served as adjunct faculty at the Federal Executive Institute, Georgia State University, LaGuardia Community College, Miami Dade Community College, Mercer University and as a faculty member for Goldman Sachs' 10,000 Small Businesses and the Tory Burch Foundation. According to Dethra, her job is to deliver R.E.A.L. business results to her clients while making it fun, enjoyable and results driven the entire journey.
COST:
Through
January 31st
Through
February 7th
Through
February 15th

Day of Event


Member Rate
$20.00
$25.00
$30.00
$35.00

Non-Member Rate

$25.00
$30.00
$35.00
$35.00
**Effective immediately - We will no longer be accepting cash for walk-ins**
Logging PDUs:
PDUs can be claimed here: https://ccrs.pmi.org/login/index?ReturnUrl=%2f
For detailed instructions, please visit the CCRS User Guide.