We worked hard as elves, we pushed ourselves beyond the edge, we celebrated victories and success, we dealt with setbacks, came back stronger and overcame hurdles, but most importantly, we spent our after-office hours on a novel cause of giving back to our community! Yeah, we did a lot! We've finally reached towards the end of this vibrant year 2018!
Dear Awesome Members! Hope you are all enjoying a warm and super exciting Christmas-New Year Holiday! The approaching major milestone for all of us – The New Year Day 2019, reminded me to connect with my near and dear, which includes you all!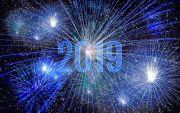 It's rightly said that Project Management can be applied to our lives as well! For a year-long project of diverse tasks we handled, we did well in some while we learned to improve from the others. We progressed diligently from Initiation to Closure Phase of our Projects – "Productive 2018"! Now is the time for compiling our lessons learned, which I'm sure many of us must have already started to work on… even I did! You all and I, now we know what we did well this year, what we could have done better, the several opportunities to learn that we bagged.
With such an awesome year-long journey of ours, it's time we sit back, relax, cherish and celebrate life, party hard and buckle up to show our readiness to run another year-long marathon of work, success, togetherness, health, wealth and prosperity!
It's time we party hard! On this wonderful note, I feel tremendously excited to wish you all a very happy and prosperous new year 2019 to come! Let's rock, let's party hard (but responsibly)!
Kudos to PMI! Kudos to Volunteer Teamwork!
Kudos to our togetherness!
Kudos to life!
Happy New Year 2019!!!
Yours Affectionately,
Nagendra Roy
Chair – Executive Board, PMI Atlanta Chapter