We are currently seeking nonprofits and project managers to participate in this year's event!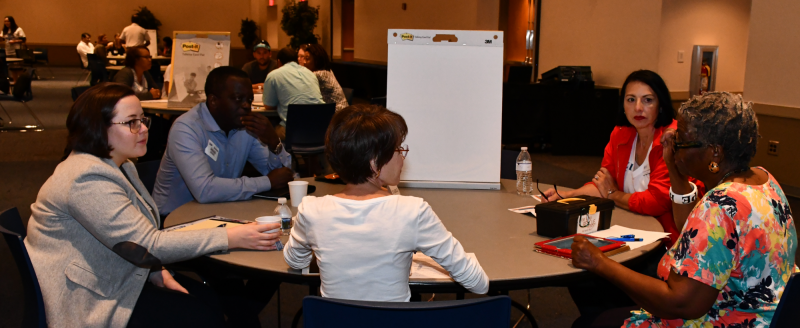 If you are an experienced project manager, or even if you are learning the ropes, and believe in making a positive impact on society through project management, this is the event for you! If you are a nonprofit that has challenges with organization and execution, as it relates to projects, this is a fantastic opportunity.
The Project Management Day of Service (PMDoS) is a full day community service event which the PMI Atlanta Chapter has hosted since 2018. The intent of the program is to provide nonprofits with pro bono (free, professional) project management services to help them address their challenges. We do this by bringing together experienced project managers (PMs) with nonprofits that are working hard to serve their communities. The PMs guide the nonprofits in various aspects of our discipline (scoping, planning, scheduling, etc.) which in turn allows the nonprofits to do more to serve their communities. This is done by conducting a set of workshops to dive into the project challenges that the nonprofits are dealing with, and then pivot towards organizing the work, such that scope items are organized and best practices are shared to support the nonprofits goals going forward.

The potential impact is enormous, since this is an opportunity to also bring along our less experienced project managers. Newly minted project managers, CAPMs, undergraduates, and graduate PM students can shadow the experienced PMs during the day, to gain practical knowledge about PM principles, while supporting a worthy cause! We aim to advance the current understanding of the PM Body of Knowledge (PMBOK) by exposing our next generation of PMs to challenges and obstacles they might encounter as a project manager.
This program not only has a significant local impact in Atlanta, but it factors into the larger global view. The PMDoS is held in partnership with the PM4Change organization, which conducts this program in various regions in the US and across the world, including London, Poland, and Australia. In addition, it is aligned with PMI Global's partnership with the United Nations. PMI joined the UN Global Compact and has mobilized as a force for social good. Many of the UN sustainable development goals (no poverty, zero hunger, good health and well-being, quality education, etc.) are the same goals that the nonprofits at the PMDOS are trying to tackle!
PDUs are available in the Talent Triangle and Volunteer Categories.
Location
Georgia Institute of Technology
Bill Moore Student Success Center
225 North Ave NW
Atlanta, GA 30332
Date
Saturday, April 25, 2020
8:00am - 5:00pm
(Snacks and lunch are provided)
Fees
Nonprofits: Free
PMs: PMI Atlanta Chapter Members: $20 ; Non-Members: $35
($10 off if registered by March 31, 2020)
About
Created in 2014, the Project Management Day of Service (PMDoS) started in a single location in the Washington, DC metropolitan area. Since 2014, PMDoS events have been hosted in locations across the U.S. and around the world including: Hampton Roads, Virginia; New York City; Atlanta, Georgia; San Francisco, California; Brisbane, Australia; and Warsaw, Poland.