Network Evolution: Applications and Technology by Krishna Aribindi , FiberLight / Data Center Infrastructure Engineer
PMI Atlanta Technology Forum provides an environment for Project Managers to adopt and benefit from the latest technology in their professional life and career. The forum also plans to bring speakers to discuss & share the best practices in technology.
Presentation
Latest studies show the annual global IP traffic will reach 278 Million terabytes per month by 2021, up from 96 Million terabytes in 2016, approximately 3 fold increase of data on a month-to-month basis. This amount of data coming online will overload existing networks, that were architected and built back in the 90's. We'll look at various sources that are contributing to data deluge, and also the advances that we're making in networking technologies that enable networks to be adaptive and self-healing.
Biography
Krishna P. Aribindi, EE, ME, PMP
Krishna has Bachelor of Engineering (EE) as well as Master's in Engineering from Concordia University, Montreal, Canada. Has extensive experience in network architecture, network operations. Holds a significant track record of success in translating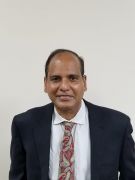 technological vision with an oversight of planning, design and delivering broad range of Network Transport and IT initiatives such as Cloud Computing, IoT, Data Analytics, AI, 5G and Optical Networking. Currently, Krishna works at FiberLight as Data Center Infrastructure Engineer. Previously, Krishna worked as a Global Technical Program Manager for US, UK and APAC regions, spearheading programs and projects for a major Financial/Brokerage firms as well as many service provider firms.
Krishna has varied Interests in: Mathematics, Economics, Astro Physics, Particle Physics, and Philosophy/Consciousness.

When
Tuesday, September 25, 2018, 5:00 PM - 7:00 PM
Where
Hewlett Packard Enterprise, 5555 Windward Parkway, Alpharetta, Georgia 30004
770-343-4339
**Note: In support of HP security guidelines, kindly be prepared to provide a picture id to the HPE Security personnel at the HPE Lobby.**
Fees
PMI Atlanta Member: $12.00, Early Bird Rate $10.00 through September 18th
Non-Member: $15.00, Early Bird Rate $13.00 through September18th
Light refreshments and beverages will be provided.
Forums no longer accept cash registrations at the door. Please register in advance or via credit card at the door.
Meeting content, presenter, and location are subject to change. Refunds will not be made for changes in meeting content, presenters, or locations.
PDUs
Earn 1 PDU
Talent Triangle Category: Strategic & Business Management

PDUs can be claimed here.
For detailed instructions, please visit the CCRS User Guide.