"Maintaining your career while pursuing your passion"
Presented by Victor Jones, of CSN Productions, LLC
The PMI Atlanta Entertainment Forum launched in 2017! Our focus is expanding knowledge and appreciation of Project Management and its benefits in unconventional fields by providing informational, educational, and networking events for individuals in various roles in the entertainment industry.
Entertainment Industry = those businesses involved in providing entertainment
• Media – film, television, radio, theater
• Music
• Sports
• Fine arts
• Digital - Gaming
Presentation
An interactive conversation with award winning independent filmmaker, Victor Jones, where he will tell you how he's pursing his passion as a filmmaker while successfully maintaining his non-film related career.
Biography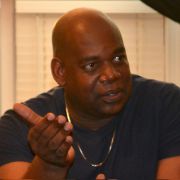 Originally from Tallahassee, Florida, Victor Jones is a graduate of Florida A&M University, where he earned a Bachelor of Science Degree in Business Economics. He is also a graduate of Mercer University, where he earned a Master of Science Degree in Healthcare Administration. In addition to his current position as an ACO Market Manager, Victor is the President/CEO of CSN Productions, a film production company that he founded in 2003.

His acting career began in the early 90's working as an extra on the television show In the Heat of the Night as well as a few feature films. Not satisfied working as a background actor, Victor turned his attention to the theatre and appeared in several stage plays in metro Atlanta. Soon independent filmmakers were beginning to seek him out for their films. From the very beginning, Victor was selective in the roles that he would portray. Although he was having success, the types of roles that he wanted to portray didn't seem to be available. So he decided to write them himself. In 2003, Victor wrote, directed and starred in his first feature film, Promise Me This. Promise Me This went on to become a film festival Best Feature Film nominee, and an audience award winner. To date, CSN Productions has produced eight films (5 features, 3 shorts), and is currently in production on the sixth feature film, Free Weekend.

As an Actor/Writer/Director/Filmmaker, Victor wears many hats as he manages each film from idea to script, script to production, and production to what he hopes will be an award winning film. Managing the production of a film, which includes creating a production schedule that will get it from script to screen in the most time efficient way can be a project managers dream or nightmare.
When
Thursday, February 15, 2018, 6:00-7:45 PM (6:00-6:30 PM - Networking)
Where
Manuel's Tavern, 602 North Highland Ave NE, Atlanta, Ga 30307
Fees
PMI Atlanta Member: $12.00, Early Bird Rate $10.00 through February 8th
Non-Member: $15.00, Early Bird Rate $13.00 through February 8th
Forums no longer accept cash registrations at the door. Please register in advance.
Meeting content, presenter, and location are subject to change. Refunds will not be made for changes in meeting content, presenters, or locations.
Logging PDUs
Earn 1 PDU
Talent Triangle Category: Strategic and Business Management
PDUs can be claimed here.
For detailed instructions, please visit the CCRS User Guide.