"Started from the Bottom to Viewing from the Top: Tips for Finding Your Yellow Brick Road"
Melissa Koehler, Vice President of Technology for CNN Digital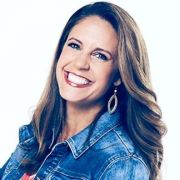 Presentation
Melissa will be sharing her story of how she started in the media industry among the twists and turns. Along the way, she will highlight how she found her passion and the value of mentorship. Melissa will provide insights from a hiring manager and candidate point of view of what to do when making a pivot.
Biography
Melissa Koehler is a technology leader who's been delivering world-class products in media for nearly 20 years. She started from humble beginnings as a Production Assistant that rose to being Vice President of Operations/Production/Exhibitor Relations. She is an Executive MBA Graduate of Kennesaw State University. And she is currently the Vice President of Technology for CNN Digital. Melissa also co-founded the Ladies in Tech @ Turner (LiTT) community at Turner Broadcasting. And she is a board member of the Atlanta chapter of AnitaB.org where she shares her passion for the growth and development of women in tech.
When
Thursday, March 15, 2018, 6:00-7:45 PM (6:00-6:30 PM - Networking)
Where
Manuel's Tavern, 602 North Highland Ave NE, Atlanta, Ga 30307
Fees
PMI Atlanta Member: $12.00, Early Bird Rate $10.00 through March 8th
Non-Member: $15.00, Early Bird Rate $13.00 through March 8th
Forums no longer accept cash registrations at the door. Please register in advance.
Meeting content, presenter, and location are subject to change. Refunds will not be made for changes in meeting content, presenters, or locations.
Logging PDUs
Earn 1 PDU
Talent Triangle Category: Strategy and Business Management

PDUs can be claimed here.
For detailed instructions, please visit the CCRS User Guide.