Thursday, February 15, 2018
6:00pm - 8:00pm
Join us for the February Networking event. Featuring an extended networking session with peers and PMI Atlanta leaders, this event also provides a presentation to improve your project management and professional skills.
Presentation Details
Are you putting a shade over your light playing small when you have the power within you to have a much greater impact on your life, the lives of others, your career, or business? Who have you allowed to define who you are, what you do, what you want, when, or how? Sometimes life and environmental circumstances make it "seem" impossible to achieve the personal and professional aspirations we "really" want. However, more often, we simply don't organize ourselves to turn our aspirations into reality – and then "wake up" and find that life and our competitors have passed us by. Your focus is on everyone and everything else, but you've not paid enough attention on you and what you want, why, and what are you willing to do to achieve it!
Join Gladys Agwai at the networking event and begin to get clear about you, setting your direction through wisdom choices, and defining your own success! Your benefits will be:
Thought provoking and insightful perspective into YOU – Don't be Scared!
Expanded thinking and actions from a global perspective – Confirmed: The World is Flat
Clarity on where you are, where you want to be and why – Clarity, Clarity, and yes Clarity!
Move from awareness to attention to intention to action – Focus!
Get comfortable with the certainty of uncertainty – Exhale!
Biography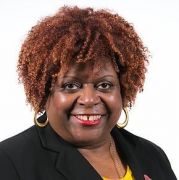 Gladys Agwai is Founder and CEO of Ignite Within transitioning after 30 years as a corporate executive within IBM. Ignite Within moves its clients away from their fears to live and work in their highest purpose. After 30 years as a corporate executive leader within IBM in the US, Nigeria, Ghana, and Kenya, across multiple industries and functions, she leveraged her experiences to make this non-fear based transformative transition as a business owner. As an author and John Maxwell International Certified Coach, Speaker, Teacher, and Strategist, she provides inspirational and progressive enrichment programs to optimize individuals and businesses in the areas of self and business discovery, leadership strategies and values, transformative non-fear based transitions, and business strategy. She holds a Bachelor of Arts degree in Business Administration and a Master of Science in Management and Human Resources.
Gladys has had a positive impact on others through the mentoring and coaching of individuals and over 100 small businesses' growth and development.
Where
The Georgian Club, 100 Galleria Pkwy SE, Suite 1700, Atlanta, GA 30339
Registration
Space is limited. Snacks and non-alcoholic beverages will be provided. Cash bar is available.
COST:
Through
Jan 22nd
Through
Jan 29th
Through
Feb 5th
Through
Feb 14th
Day of


Member Rate




$20.00

$25.00

$30.00

$35.00

$40.00

Non-Member Rate



$25.00

$30.00

$35.00

$40.00

$40.00
**Effective immediately - We will no longer be accepting cash/check for walk-ins**
Logging PDUs
Earn 1 PDU: Leadership
PDUs can be claimed here.
For detailed instructions, please visit the CCRS User Guide.