"The Holidays…Opportunity time, not down time!"
Join us for breakfast at Alpharetta Presbyterian Church for a great start to the day! You will enjoy networking with peers, a hearty breakfast, and an engaging presentation.
Presentation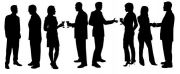 Come for an interactive session during our last Alpharetta PM in the AM Breakfast! During this period of the year companies are wrapping up their quarter or year.
Some companies are developing their budget and head count for the year – beginning in January. Business is wrapping up for the year. Managers are more readily available to start thinking about developing or expanding their teams. Companies are having holiday parties. Families are having holiday parties. Organizations are having holiday parties. Everyone is having parties. Now is the perfect time to network! Come hone your networking skills and share your ideas for using the end of the year to set up a great New Year!
When
Wednesday, November 15, 2017, 7:30 AM - 9:00 AM
Where
Alpharetta Presbyterian Church, 180 Academy Street, Alpharetta, GA 30009
Fees
PMI Atlanta Member: $30.00, Early Bird Rate $25.00 through November 8th
Non-Member: $35.00, Early Bird Rate $30.00 through November 8th
Walk-ins are welcome at $40.00.
We no longer accept cash registrations at the door. Please register in advance or via credit card at the door.
Meeting content, presenter, and location are subject to change. Refunds will not be made for changes in meeting content, presenters, or locations.
Logging PDUs
Earn 1 PDU, Strategic and Business Management
PDUs can be claimed here.
For detailed instructions, please visit the CCRS User Guide.