Mixed Reality presented by Matthew Vollkommer
PMI Atlanta Technology Forum provides an environment for Project Managers to adopt and benefit from the latest technology in their professional life and career. The forum also plans to bring speakers to discuss & share the best practices in technology.
Presentation
What is mixed reality?
Mixed reality is an industry term used to cover two similar yet distinct technologies: Virtual Reality and Augmented Reality.
Since the release of the google glass, concepts of mixed reality have captivated the public's attention. Oculus rift attracted major attention across industry tradeshows though the mid-2010s. With the release of Pokémon go 2 years ago, mixed reality went main stream. But is mixed reality more than fun snapchat filters to send to friends and family?
What is this technology? Who are the major players? Where is the technology going?
Biography
Matthew Vollkommer is currently a TAM with HPE. He has worked in IT for 6 years. He has previous experience with EY and providing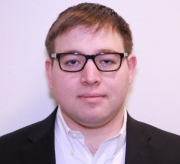 consultation to local startups and small companies.
Matthew has a BBA in MIS from the University of Georgia. He also attended graduate school in computer science at the Georgia Institute of Technology.

When
Tuesday, May 22, 2018, 5:00 PM - 7:00 PM
Where
Hewlett Packard Enterprise, 5555 Windward Parkway, Alpharetta, Georgia 30004
770-343-4339
**Note: In support of HP security guidelines, kindly be prepared to provide a picture id to the HPE Security personnel at the HPE Lobby.**
Fees
PMI Atlanta Member: $12.00, Early Bird Rate $10.00 through May 15h
Non-Member: $15.00, Early Bird Rate $13.00 through May 15th
Light refreshments and beverages will be provided.
Forums no longer accept cash registrations at the door. Please register in advance or via credit card at the door.
Meeting content, presenter, and location are subject to change. Refunds will not be made for changes in meeting content, presenters, or locations.
PDUs
Earn 1 PDU
Talent Triangle Category: Strategic and Business Management

PDUs can be claimed here.
For detailed instructions, please visit the CCRS User Guide.