The Agile Forum meetings offer an opportunity for professional networking and knowledge sharing with other agile practitioners as well as provide a learning environment for professionals interested in learning about agile techniques. Everyone is welcome to participate.
Presentation: "Introducing Business Agility into a Non-Software Environment: Continued learnings at IHG" presented by Russ Peña & Daniella Huang, IHG
Special Thanks to Our Sponsor:

Light refreshments and beverages will be provided.
Earn one PDU for attending this event.
When
Tuesday, March 21, 2017
6:00 PM - 8:00 PM
Where
Matrix Resources
1000 Abernathy Road
Suite 500
Atlanta, Georgia 30328
Fees
PMI Atlanta Member: $12.00, Early Bird Rate $10.00 throug March 14th
Non-Member: $15.00, Early Bird Rate $13.00 through March 14th
Please note: Effective May 2016, Forums will no longer accept cash registrations at the door. Please register in advance or via credit card at the door.
Walk-ins are welcome at the Non-Member rate.
---
Presentation Details:
Implementing an Agile approach has helped transform countless technology organizations into becoming more productive, efficient and business value driven environments. That has catapulted the groundswell for Agile disciplined execution to staggering heights! Yet the introduction and adoption of an agile approach continues to be allusive and extremely difficult for any organization. Additionally, non-technology/software teams are expressing a desire to have more agility within hyper matrixed global enterprises. In October of 2016 we took you through the IHG journey showcasing our successes (and learnings) while partnering with LeadingAgile. This presentation will further clarify our salient maturation, growth and incredible insight into business agility.
Talent Triangle Category: Strategy & Business Management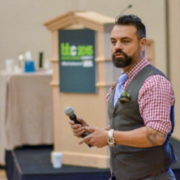 Russ Pena Biography:
A nationally recognized speaker and published author, is an expert enterprise transformation consultant and agile coach. Formerly the Chief Methodologist at SunTrust Banks in Atlanta, his primary SDLC architecture direction for business and technology practices (lean, waterfall and agile) are utilized by thousands of project practitioners across the enterprise. Utilizing lean agile principles at scale, Russ has implemented multi-million-dollar business transformation projects to enhance business capabilities aligning to business strategy.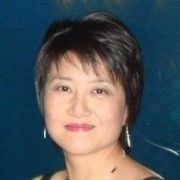 Daniella Huang Biography:
Daniella is a project manager within the IHG strategy PMO in Atlanta, Georgia. Her early career in the Greater China Area and Switzerland gave her an extensive hotel operations background. She has been in a variety of roles within the hospitality industry, including independent and franchised hotels, hotel owners, hotel management companies, and the global brand hotel company IHG. A dot-com project brought her to the US in 1999 and it was there that she was introduced to the project management discipline which served her well while traversing projects for two start-up companies and IHG—Most notably the highly complex involvement with EVEN Hotels—the new brand development and launch of the very first two EVEN Hotels in Norwalk, CT and Rockville, MD. She is currently working on the evolution of Holiday Inn guestroom and public space design and new build prototype initiatives.
Logging PDUs:
For detailed instructions, please visit the CCRS User Guide.