Date: Monday, March 20, 2017 - Thursday, March 23, 2017
Time: 9:00am to 5:00pm, with an hour for lunch
Location: DeVry University – Cobb-Galleria Center, 100 Galleria Parkway, SE, Atlanta, GA 30339
PDU Breakdown:
Technical: 30, Leadership: 3, Strategic and Business Management: 2
Description:
This 4 day course provides a comprehensive review of the PMBOK areas covered in the PMI Project Management Professional Exam. It includes 28 hours of classroom instruction (7 hours per day) as well as at least 7 hours of non-classroom assignments and activity (ex… homework to include sample test taking, reading assignments, etc.).

Course objectives:
The course objective is to successfully prepare class participants to pass the PMI Certification Exam for the PMP.

Who should attend:
This course is designed for those individuals preparing to successfully pass the PMI Certification Exam for the PMP

Instructor: Mr. Rick DeJohn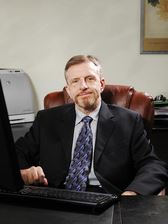 Richard (Rick) DeJohn has been an IT consultant, network engineer, and project manager for over 10 years, and has worked with Becker Professional Education for the last three years. Prior to that, he held the Electronics Department Chair at the New England Technical Institute.

He earned a bachelor degree from Arizona State University as well as attaining a Masters Degree in Information Technology. Additionally, Rick has achieved Certified Training Credentials with Microsoft, Cisco and PMI.

With many years of real world experience built on a strong foundation of education and training, Rick is a highly qualified professional who brings his knowledge and experience to clients whether in the training environment or as a consultant. Discover Financial, IBM, American Express, Kaiser Permanente, Med Assets, Bell South, Molex, Tellabs and Charles Schwab are just a few of the corporations he has worked with. Rick is an active member of the Project Management Institute and has authored a book on project management.

RSVP: Thursday, March 16, 2017

Registration Fee:

$ 910 --- PMI Atlanta Chapter Member (discount rate)
$ 1,219 --- Non-member (standard rate)

PMI Atlanta Calendar of Events: http://www.pmiatlanta.org/events/event-calendar

Please note that walk-ins on the same day as class are not allowed. Registration must be completed on-line in advance of RSVP date provided in course description.

* For information on the event, please contact Certification & Education PMP Seminar Chair at email pmpsemchair@pmiatlanta.org or leave a voicemail message at 678-653-3343.