PMI Atlanta Technology Forum provides an environment for Project Managers to adopt and benefit from the latest technology in their professional life and career. The forum also plans to bring speakers to discuss & share the best practices in technology.
Keynote Presentation: "The Data Driven Revolution: The Future of Corporate Technology" presented by Steven D Kostyshen, Angel Investor and Board Member
Special Thanks to Our Sponsor:

Light refreshments and beverages will be provided.
Earn one PDU for attending this event.
When:
Tuesday, March 28, 2017
5:00 PM - 7:00 PM
Where:
Hewlett Packard Enterprise
5555 Windward Parkway
Alpharetta, Georgia 30004
770-343-4339
**Note: In support of HP security guidelines, kindly be prepared to provide a picture id to the HPE Security personnel at the HPE Lobby.**
Fees
PMI Atlanta Member: $12.00, Early Bird Rate $10.00 through March 21st
Non-Member: $15.00, Early Bird Rate $13.00 through March 21st
Please note: Effective May 2016, Forums will no longer accept cash registrations at the door. Please register in advance or via credit card at the door.
---
Presentation Details:
The corporate technology industry is about to undergo the most dramatic upheaval it has experienced in 40 years. The past 4 decades of application driven innovation to enhance operational efficiency and transactional quality is coming to an end. The future data driven revolution will employ machine learning and artificial intelligence to completely revamp and restructure entire industries, the entire dynamic of relationships between the individual and the entities we interact with, and even the fabric of existing social structures.
Talent Triangle Category: Strategic and Business Management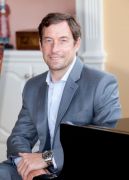 Steve has been immersed in the technology industry for 25 years, including 15 as the founder and CEO of two enterprise software companies.

Over the course of his career, Steve has worked internationally in over two dozen countries and dealt with senior executives at Fortune 500 companies including American Express, AT&T, General Motors, Federal Express, Fidelity Investments, Dell Computer and Mobil Oil.

After selling his last venture, Informiam, in 2007, Steve decided to take his capital and employ it to assist young entrepreneurs in their quest to create new enterprises. Steve has spent the past few years working with innovative and energetic founders as a board member, coach and mentor. He was a first round angel investor and board member of Demandforce (acquired in 2011 by Intuit for $425 M) and currently holds investments and Board positions in K2View, Clarity Solutions, Know!, and CoherentRx. Previously, he was a board member of Camilion Solutions (acquired by SAP) and Axxiom Technologies.
Meeting content, presenter, and location are subject to change. Refunds will not be made for changes in meeting content, presenters, or locations.

Logging PDUs:
For detailed instructions, please visit the CCRS User Guide.