Join our Governance Forum as we discuss a range of governance topics. Network with peers in the same field and hone your skills in our monthly meetings!
Presentation
"A Culture Centric Approach to Data Governance"
Presented By: Mary Levins (Owner, Sierra Creek Consulting) and Cassie Elder (Principal, DataCraft Parnters)
Many business and technology conferences highlight "culture" as a (or THE) critical factor to success. This is particularly true for data governance-focused sessions. Thought leaders advise "Data governance isn't one-size-fits-all." and "It's all about culture." Then they leave us hanging with questions: "What is culture?"; "Why is culture important to successful data governance programs?"; "How do we address culture when building or improving data governance programs?"
Through years of experience, we've learned that data governance is about people, behavior, and results and that an empathetic, people-focused approach was common among our best successes. Over time, we developed a culture-centric approach to data governance that weaves cultural components into standard phases of a data governance program.
We will share key components to help you identify your core culture and provide a specific culture-centric approach for each core culture to use for a successful data governance program. Topics will include:
What does "culture" mean and why is it important

How to identify the core culture of your company

How to design and execute a new data governance program specific to your company's culture

How to take a culture-centric approach in each phase of discovery, operationalizing, and sustaining data governance

Examples of specific culture strengths and pitfalls to avoid for a successful data governance program
Biography
Cassie Elder
Economist, Data Nerd, Walking Contradiction - For over 20 years, Cassie has applied her thirst for knowledge, addiction to "a-ha"
moments, and dedication to exceeding expectations to her work in leading Business and IT organizations to design, implement, and adopt intentional, collaborative data strategies and platforms to become data-powered.
She is an economist by training and practice, and as the term "Data Science" was exploding in popularity among the general public, Cassie had been applying the fundamental components of Data Science for years to her work in developing applied economic solutions for her clients to optimize profits, efficiencies, and the customer experience.

Cassie is a Co-founder and Principal of DataCraft Partners, an Atlanta-based, woman-owned data-specialty firm that delivers Data Strategy, Data Science, and Data Security solutions that power growth, innovation, and evolution.
Mary Levins, PMP
Data Governance Industry Leader, Engineer, Strategist - Mary Levins is a known expert in Enterprise Data Management and Data Governance, where she is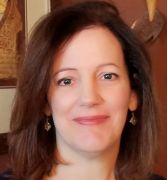 known for bringing value and visionary inspiration to organizations. She has been applying Engineering principles to data strategy solutions and optimizing complex data processes for more than 20 years.
Mary is the founding principle of Sierra Creek Consulting, a small firm that delivers Value through Data. Areas of specialty include Data Governance, Enterprise Data Management (including data knowledge management, MDM, and Data Quality), and Voice of the Customer textual analytics (including online review data, call center, and other unstructured data).
Light refreshments and beverages will be provided.
When
Wednesday, March 28, 2018, 5:30 PM - 7:30 PM
Where
Global Payments, 10 Glenlake Parkway NE, Atlanta, GA (770) 829-8000

Fees
PMI Atlanta Member: $12.00, Early Bird Rate $10.00 through March 21st
Non-Member: $15.00, Early Bird Rate $13.00 through March 21st
Forums no longer accept cash registrations at the door. Please register in advance or via credit card at the door.
Meeting content, presenter, and location are subject to change. Refunds will not be made for changes in meeting content, presenters, or locations.
Logging PDUs
Earn 1 PDU
Talent Triangle Category: Leadership and Strategy & Business Management
PDUs can be claimed here.
For detailed instructions, please visit the CCRS User Guide.