Recipe for Successful Project Delivery
Date: Saturday, July 25, 2020
Time: 8:30 AM - 4:30 PM
Location: WebEx Virtual Meeting
Earn 8 PDUs!
PDU Breakdown: Technical: 8, Leadership: 0, Strategic and Business Management: 0
PDUs: PMP/PgMP: 8 PMI-ACP: 8 PMI-SP: PMI-RMP: PMI-PBA (Max no. of PDUs that can be earned towards each certification)
Description:
What is the recipe to deliver projects successfully? It takes the right ingredients and proper amount of time to deliver a successful project. If you skip the crucial ingredients of a recipe it doesn't turn out perfect. If you use more than required ingredients then also it doesn't turn out perfect. So, where is the sweet spot?
A right balance of ingredients and managing them throughout the duration of cooking results in a perfect dish. The same is the case with project management processes. If you select the right processes and follow them consistently you end up with a successful Project. With these ingredients/processes you can also turn around projects that have gone south, and get them back to life.
There are eight key ingredients to delivering a successful Project:
1. Project Charter
2. Stakeholder Register
3. WBS (Work Breakdown Structure)
4. Resource Allocation
5. Schedule (Time Line)
6. Communication Plan
7. Risk Register
8. Performance Reporting
Any one or more ingredients you miss in your project will surely lead to unanticipated roadblocks and dead ends. If these steps/ingredients are followed consistently, you end up with successful execution of a project. With these ingredients you can also turn around projects that have failed badly and get them back to life.
In this course, you will learn to utilize the key project management processes and learn the key ingredients to deliver a successful project.
Course objectives:
After completing the course, attendees will be able to:
Get an in-depth understanding of the key ingredients of the recipe to deliver projects successfully.

Understand and apply key project management processes to increase successful project delivery.

Walk away with a toolkit that you can implement in your projects right away.
Who should attend?

The course is ideal for anyone in the project management role who would like to learn about key project management process to ensure successful completion of projects. This will help them to walk away with a toolkit that they can implement in their projects right away. For those who are part of a PMO, they can take the recipe as suggestions for process improvements for the PMO.
Instructor: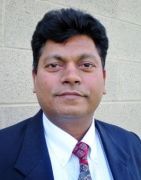 NK Shrivastava, MBA, PMP, RMP, ACP, CSP, SPC4
NK Shrivastava, is CEO of RefineM LLC and an experienced Project Management Consultant, Trainer, and Enterprise Agile Coach. He is a highly accomplished, strategic, and business-savvy consultant with more than 30 years of experience in project management, risk management, process improvements, and Agile. NK is an experienced instructor/trainer on project management and Agile topics. NK has been doing Agile coaching for more than 8 years, including for Fortune 100 companies.
Registration Fee:
$ 399 --- PMI Atlanta Chapter Member (standard rate)
$ 599 --- Non-member (standard rate)
*** Early Bird Special: Save $50 If Registered By Saturday, July 11, 2020 ***
Please note that walk-ins on the same day as class are not allowed. Registration must be completed on-line in advance of RSVP date provided in course description.
* For information on the event, please email Certification & Education Class Chair or call 470-315-1179.