Join us for our virtual March Chapter Meeting! You will have the opportunity to learn more about the Atlanta Chapter in the Newcomers Meeting prior to our Keynote Presentation.
Newcomers Meeting - 5:30pm - 6:00pm
If you are a new member to PMI Atlanta, you do not want to miss this opportunity to hear how PMI Atlanta can help you achieve your goals and meet members of the leadership team.
Keynote Presentation - 6:15pm - 7:15pm
"Heart of a Champion! The Leader Within!" presented by David Lawhorn
Time To Take Your Place Amongst Legends!
But before you can take on the world and do the amazing things we both know you are capable of you first have to conquer and learn how to lead that leader within. It will be the hardest thing you ever do, but it will create within you the unstoppable heart of a champion. Join us on March 28!
Biography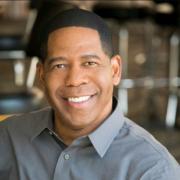 David Lawhorn, after years of dominating every facet of the sales landscape and setting national records, next conquered Toastmasters becoming a two-time Distinguished Toastmaster.
He has successfully transitioned from Toastmaster to Corporate Performance Trainer and Motivational Keynote Speaker. With his signature mantra "Walking Like A Giant", David is being recognized nationally as the authority in Performance Driven coaching.
David is founder of David Speaks International, a High Performance, Elite Execution Think Tank headquartered in Atlanta, Georgia. He has worked with corporate giants like Macy's, Easy Spirit, Car Max, Terminix, Siemens, Career Builder, The CDC and can't wait to introduce your group to that NEXT LEVEL of Championship Culture and Elite Performance. His highly-anticipated book, Walking Like A Giant, is now available at Amazon.com or on David's website Giantspeaks.com.
When
Monday, March 28, 2022, 5:30pm - 7:30pm
Location
Virtual Meeting
Fees
Member: $8
Non-member: $10
Meeting content, presenters, and location are subject change. Refunds will not be made for changes in meeting content, presenters, or locations.
Logging PDUs
Keynote Presentation: 1 PDU - Leadership


PDUs can be claimed here
.
For detailed instructions, please visit the
CCRS User Guide
.