PM in the AM is expanding to Alpharetta! Join us for breakfast at Alpharetta Presbyterian Church for a great start to the day! You will enjoy networking with peers, a hearty breakfast, and an engaging presentation.
Presentation: "Navigating the Workplace Successfully through Leadership and Communication" presented by Monique Russell, Clear Communication Solutions LLC
Earn one PDU for attending this event.
When
Wednesday, May 17, 2017
7:30 AM - 9:00 AM
Where
Alpharetta Presbyterian Church
180 Academy Street
Alpharetta, GA 30009
Agenda
7:00-7:30 - Registration & Breakfast
7:30-7:45 - Announcements
7:45-8:45 - Presentation
Fees
PMI Atlanta Member: $30.00, Early Bird Rate $25.00 through May 10th
Non-Member: $35.00, Early Bird Rate $30.00 through May 10th
Walk-ins are welcome at $40.00.
---
Presentation Details:
While traditional payroll opportunities remain, the gig economy is on the rise. As a management consultant and professional, changing projects, teams and work environments are the norms. You know what this means: a new team, new leadership, and a new organizational culture. Have you ever been challenged in a new environment? Have you found yourself surrounded by others who sabotage your efforts? You will delve into solutions and strategies on how to navigate the new waters efficiently while using strong principles and ethical values. You will also increase knowledge on how to become clearer and more effective communicators.

You will leave with:
Practical tools strategies to build confidence in your new work environment and beyond
Strategies to build influence, and engage in meaningful conversation at work.
Targeted language to eliminate communication pow-wows and mishaps.
Talent Triangle Category: Leadership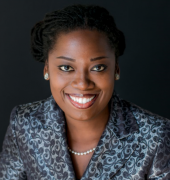 Monique Russell believes leadership is a lifestyle. As a communications consultant and coach, she puts this into action by bringing charismatic leadership and communications content and strategies to individuals, organizations, and communities. With a positive and compassionate approach, leaders are empowered to build confidence, communicate in a way that makes them shine, and use clear communication within their teams. A compassionate leader and teacher, Monique uses inclusive insights to empower others to be the best version of themselves. She has taught more than 2,000 adults globally and has served as a communications expert for government agencies such as the Centers for Disease Control and other Fortune 100 companies. She is the founder and managing partner of Clear Communication Solutions LLC, a communications consulting and coaching firm.

Ms. Russell has been a Leadership and Communications facilitator to local chambers of commerce, national associations, school groups, and faith-based organizations. She has appeared on Business Radio, and several other local radio shows and has been quoted in national publications such as the National Association of Mutual Insurance Companies (NAMIC) magazine. Civic-minded, she has volunteered as a board advisor for non-profit groups, served as a Junior Achievement facilitator, and Operation Lifesaver presenter. In 2012, Monique co-founded a thriving youth TEDx after school club which is broadcast globally on TED. She is the host sponsor and presenter of Leadercast Alpharetta, a Forbes' recommended leadership conference. Ms. Russell earned a Bachelor of Science in Broadcast Journalism and two Masters of Science, one in Publication Relations and one in Advertising. She is trained as a DiSC Facilitator, and a Public Speaking Subject Matter Expert (SME).