by Mike Ososki, PMP, Public Relations Committee
We didn't know where the voice was coming from. After being introduced, Jeff Tobe made his loud, high energy, and semi-invisible grand entrance from the back of the room. It was a good kick-off for PMI Atlanta's March Dunwoody Dinner—and a powerful presentation of positive challenge.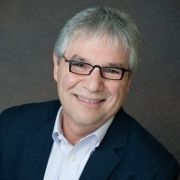 Mr. Tobe is a professional speaker and author hailing from Pittsburgh, with a topical focus on customer experience (CX), creativity/innovation, and employee engagement. His thoughtful, humorous and clever style well underscores the content of his message. One of Jeff's first audience directives was that when he asked us a question with an obvious YES answer, we should pump our fist in the air and shout ABSOLUTELY! And we did.
Our automaton habits were challenged, with exhortation that if we've always done something in a certain way, and that's why we keep doing it, we must still strive to be open to change for the better. Often this practice is uncomfortable. As a simple demonstration of our resistance, Jeff had everyone switch their watch or bracelet to the other hand, and see if they could keep it there until bedtime. (Not that it's better, but you get the idea :)
We are evolving out of the time-worn Customer Service and Satisfied Customer model into the new Customer Experience and Loyal/Engaged Customer model. For your customer, YOU are the brand and the company, so ask yourself: What is the customer experience of ME?
Comparing Cost vs. Value from a CX angle, our job is to increase value so it's more important than cost. Constantly check with your "customer," asking "What will increase the value SPECIFIC to you AT THIS VERY MOMENT?" Your customer is anyone you want to influence or persuade. Give yourself an A.S.K. (Alternative Solution Kick) and shatter the stereotype of the EXPERIENCE your customer expects to have with you ... go for the pleasant surprise, as in 1+1=3, and "If It Ain't Broke, BREAK IT!" (in a good way).
Every transaction is always an experience for the customer. So how random or managed is the PM experience you are delivering? (Most PMs deliver experiences without thinking about them.) You will do well to anticipate and know what your customers need before they do. Engage customers by turning each touch point into a dialogue. What are YOUR touch points?
Project managers are change agents, and part of our work is to color outside the lines. Step one: figure out where the edge of the page is, so you don't fall off. Be careful with the status quo mindset rooted in fear. Culture is based in the past, and your work is often to shift the climate. Always seek to influence and persuade of the benefit of your proposed change to your customer, because everyone's favorite radio station is WII-FM (What's In It For Me?).
Part of Jeff's definition of creativity is "looking at something differently than everyone else." He told a good archetypical story to illustrate how our assumptions and prejudice create our perspective. Maybe it's always best that we seek not to change the world, but choose to change our mind about the world. From every challenge comes opportunity. Thinking of Harvey, the classic James Stewart rabbit film, Jeff exhorts that we "learn to see invisible opportunities where everyone else sees only visible limitations."
Do you like to work with people who are fun, and have more fun at work? Of course you do, and it can be done. Coloring outside the lines is scary business, but we all need to exercise our "risk muscles."