The PMI Atlanta Chapter Nominations Committee is proud to present the following candidates to the membership. You will receive an email with a unique link to cast your vote. If you have not received your email, please contact us.
Voting in the Chapter Elections will commence on Monday September 13th.
Results will be announced at PMI Atlanta's 40th Anniversary Celebration on Friday, October 22, 2021 - register now!
Meet the Candidates
Chair Elect Candidates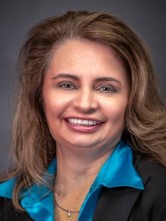 Nazanin Aslani, PMP
I have been a PMI member since 2011 and joined PMI Atlanta chapter in 2016. I have served as Director at Large on Executive Board since 2018. Prior to joining PMI Atlanta, I was on Board of Director of PMI Los Angeles Chapter from 2013-2016 as VP of Professional Development and VP of Administration.
I have pursued a career in Information Technology with a broad background in project management, software development, system integration, and information security. In my current role as IT Project Manager with a major healthcare company, I am leading cross functional teams in software development and infrastructure projects.
I have a B.S. in Computer Science and am also a Project Management Professional (PMP) and a Certified Scrum Master (CSM) and am in process of earning my Six Sigma Green Belt Certification.
Vision Statement
The vision statement for PMI Atlanta Chapter is "Be the industry leader for project and program management in our community". I will work with LMT and Executive Board to provide services to increase member value in alignment with chapter's vision statement, mission, and strategic initiatives.
I will continue to work with LMT and the Executive Board to improve some key areas that can promote our vision such as Professional Growth offerings based on the needs of our members and community. It is also important to continue building relationships with current and future leaders of our community e.g. military, universities, non- profits, local businesses and to promote project and program management amongst their members. I would like to see our Mentorship program grow in coming years and be one of the strongest amongst PMI chapters.
A key component to fulfill chapter's vision is to have strong member retention rate and engaged members. To that end, I would like to explore ideas on how to liven-up our chapter meetings and offer new types of events that can attract participation. Our special events such as PM Day of Service and Recruiter Events which provide value to our members, partners and local community will continue to strive under my leadership and we will consider other valuable events.
We have strong leaders amongst our past chairs. We should continue to benefit from their experience after their term ends. I would like to establish an Emeritus board/Advisory board of past chairs.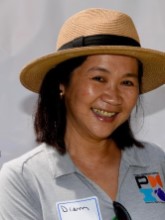 Diem Huynh
Diem Huynh is the founder of Solutions Optimized and serves as president of the company. She is a certified Project Management Professional with more than 20 years of program and project management consulting and IT system engineering experience. Diem
utilizes an extensive range of IT-related skills in her work, including Software Development Life Cycle, Agile Development, business analysis, data modeling, process engineering, systems design, and object-oriented analysis and design. She thrives on rescuing projects in jeopardy, managing customer changing needs, and enhancing the productivity of IT developers and managers. She has worked for large and small companies and adapted well in all environments in providing consulting services to AT&T, WinStar, Cable & Wireless, the Washington D. C. Water and Sewer Authority, and the Bureau of Census where she remained for 14 years until a relocation.
Additionally, Diem holds a Bachelor of Science in Management from the Georgia Institute of Technology with a Certificate in Accounting and a Certificate in American Literature. She is also a graduate of the well-respected EDS Systems Engineer Development program and the EDS Systems Engineer Core Competency program. In her spare time Diem enjoys travelling, food tasting, and volunteering with the Atlanta Chapter of the Project Management Institute.
Vision Statement
My vision is to give the members a great value for their membership, not just in the professional development area but in the relationship development as well. Specific goals include the below:
Increase the level of member engagement
Increase retention rate and new membership rate; have data analytics team process date to identify prospective members and folks whose memberships will expire in 3 months and then 1 month reminders
Implement a few one improvement initiatives
Create a university partnership with another local college
To be a leading chapter in the PMI community
Increase member satisfaction

Treasurer Candidates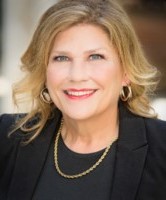 Harper Bronson
Harper Bronson is a Global Program Management executive with 15 years of experience in varied industries. Her focus is Information Security programs. She has been in Atlanta for 20 years. She was raised in St. Louis, Missouri and attended the University of Missouri and Lindenwood University for her MBA. She started her career as a Cobol programmer and will proudly tell you that she used Hollerith cards at the beginning of her college years.
Harper is passionate about mentoring and coaching a more diverse workforce in Information technology. She has mentored and coached young women and men for the past several years with Georgia State University's J. Mack Robinson College of Business mentoring program. She also works as a part-time instructor for the college, teaching undergrads and grads IT Project Management and Information Security. She truly believes in reaching back and pulling up women the way people have reached back to pull her up. Fun facts: Harper was born in Yokosuka, Japan, is a certified scuba diver and was once hit in the head by a hockey puck at an NHL Atlanta Thrashers game.
Vision Statement
The Treasurer will be accountable for all fiscal matters. In this role the Treasurer will ensure the organization's financial health and assist in revenue generating opportunities.
Director-at-Large Candidates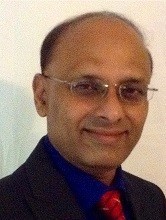 Venkata Patt
Venkata Patt's (aka VP) professional career took off in 1993 to manage the onsite and offshore software development team in Hewlett-Packard, Palo Alto, CA. He is a visionary in which his goals are always to be successful in his leadership and bring the chapter to a level that never stops rising. His aspirations and goals align with none other than PMI's. In 2011, HP brought Venkata to Atlanta where he led the ERP Program Management before moving to General Motors to be a part of the PMO Leadership to Deliver the Dealer Marketing Solutions. Currently, Venkata is with Equifax as the PMO Leader and acting as Chief of Staff managing the Fraud & Analytics Program. With extensive Software Development, Product Sales & Marketing, as well as fully fledged customer experience background, Venkata also has a solid emphasis on Solution Delivery with a Buy & Integrate model plan. Venkata builds a strong professional relationship in networking by collaborating with Internal and External Stakeholders & End Customers/ clients to increase value making it matter to Customers, Partners, Investors and Staff. Venkata also regularly attends Leadership sessions to showcase Leadership attributes such as Accountability, Winning with Integrity, Teamwork, and his personal favorite: being Bolder makes it matter.
A strong believer in the power of positive thinking in the workplace, Venkata regularly develops and builds professional networking relationships to assist the team with effective Leadership communication techniques.
Vision Statement
My experience with PMI includes chapters: Sacramento and Atlanta for the last 15+ years. To the Board and the Leadership teams, I am a trusted person and will continue to focus on increasing the membership benefits and cost optimization.
As a Director 4, I will serve the Leadership team(s) in the Servant Leader capacity to enhance improvements by being the Liaison for either Technology Division or anything that is assigned by the Board including the Chair/ Chair Elect & team.
To set proper guardrails aligning with PMI Atlanta's Mission and Vision, I will continue my work with Cross Functional teams by coaching and/or reverse mentoring from the teams.
To build on to the PMI Atlanta Leadership teams & Members, involving my networking connections for PMI Branding will bring improvement as needed through Corporate Events.
To me Success means:
Set/See the Goal
Understand the Obstacles
Create a Positive Mental Picture
Clear the mind of 'self-doubt'
Embrace the Challenge
Stay on Track
Show the World that "WE" can do it together!
I will act as a Team Player interacting with others to help and assist as required by rolling my sleeves in/ at any event to help boost the image of PMI Atlanta to help the Board Leadership team as a strong pillar.