Friday, July 15, 2022
9:00am - 1:00pm
As the project management profession continues to increase in complexity, there is a demand for Leaders. With the changing business climate, the yardstick for measurement is the emotional competence of Project Managers and Leaders. This seminar will examine the challenges/issues presented to Project managers and how emotional intelligence helps drive success. Leadership excellence cannot be achieved by technical competence but by character and Emotional Intelligence(EI).
In today's changing business environment, Project managers not only need to manage global, virtual and multi-cultural projects, but also establish a direction and align with the organization vision. Successful Leadership is a dynamic process requiring both cognitive and emotional competencies. The globalization of workplace puts special premium on Emotional Intelligence for Project managers. Several studies demonstrate that strong leadership style and emotional intelligence leads to the success in implementing large and complex global initiatives.
This Half-day Seminar addresses why Emotional Intelligence is an important skill required for excellence in Leadership. As Emotional Intelligence is an important skill under Leadership – the core competency of the PMI Talent Triangle, project/program/portfolio managers need to acquire this skill. The seminar will outline how the Emotional Intelligence Framework is central to leadership & will discuss how you can manage your emotions & stress through EI. Case Studies and social media clips will be used during the seminar.
Participants earn 4 PDUs (3 Leadership PDUs + 1 Strategic PDU)
After completing the course, you will be able to
Describe the Emotional Intelligence Framework and how to excel as Leaders by leveraging emotions.
Understand how Emotional Intelligence can help establish a positive team environment.
Identify and develop the emotional competencies that are required for project management success.
This course is ideal for
Project management practitioners interested in developing emotional intelligence to lead and manage projects/programs.
PM Consultants interested in raising their emotional intelligence to deliver successful projects consistently.
Business leaders, Program Managers and Directors, responsible for implementing solutions with emotional intelligence, for constantly changing stakeholder & market needs.
Instructor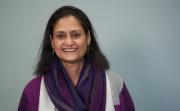 Shobhna Raghupathy is a senior leader and consultant with oversight and management experience of Strategic and Digital Transformational initiatives for over 20 years. Shobhna is an invited Board Advisory member at Harvard Business Review (HBR). She currently serves on the PMI Professional Awards Insight Team and as VP Education at a Toastmasters Club in Georgia.
An engaging and vibrant speaker, Shobhna has delivered over 50 presentations at conferences globally. She has also presented seminars/min-seminars for the past 15 years for PMI chapters in US and abroad. As a recognized & invited speaker she has virtually presented at PMI Virtual Experience Series (VES) & chapter events. Shobhna has published / co-authored many project management articles.
An entrepreneur, she has been engaged as a consultant in strategic initiatives at corporate/state levels. She contributed effectively to strategic optimization efforts through virtualization / cloud computing and led Agile initiatives using global delivery defining the Agile Transformation Roadmap.
Her PMI journey started in 2004 while launching the Marketing program at PMI Atlanta. She later served for eight years on many PMI Ethics committees where she was part of team that developed the PMI Ethical Decision-Making Framework and designed the PMI Ethics website.
Shobhna holds a Bachelor's degree in Physics and Master's degree in Computer Science. She is a 2008 EMEA graduate of PMI Leadership Institute Master Class and a certified Project Management Professional (PMP)®
When
Friday, July 15, 2022
9:00 AM - 1:00 PM
Registration
$199 --- PMI Atlanta Chapter Member (discount rate)
$299 --- Non-member (standard rate)
*** Early Bird Discount Through Saturday, July 2, 2022 ***
Save $50!
$149 --- PMI Atlanta Chapter Member (discount rate)
$249 --- Non-member (standard rate)
PDUs Earned
Technical: 0 / Leadership: 3 / Strategic and Business Management: 1
Location
Virtual
RSVP by Wednesday, July 13, 2022
Please note that walk-ins on the same day as class are not allowed. Registration must be completed on-line in advance of RSVP date provided in course description.
* For additional information on the event, please call 301-674-5578.