Friday, June 24, 2022
9:00am - 1:00pm
The digital age is disrupting every area of business. Adapting to digital transformation requires more than new strategies, a complete restructuring of the organization and its operations and processes. This begins by understanding how digital is transforming the industry value chain and how new value propositions can be defined for the digital customer. The leadership needs to reimagine & transform the organization for ambitious purpose.
What are the leadership competencies needed to thrive in this era of rapid technology and business model change? This presentation will examine the challenges/issues presented and the new leadership models/theories that have emerged over the past few years. The entrepreneurial success stories of the digital economy definitely supports the theory that 'Leaders aren't born, they are made'. We will discuss the impacts of digital age and some 'bold' & 'inspired' leadership successes. For this age of digital disruption, the demand is for Transformational leadership, where a leader identifies the needed change, creates a vision to guide the change and executes through inspiration.
Organizational transformations are happening through projects. As projected by PMI, project-oriented economic activity worldwide would grow to $20 trillion in 2027. There will be cultural & organizational impacts due to this transformation to a project economy. In this change-driven world, leadership can use the project canvas framework to strategically define the value and benefits.
This Half-day Seminar addresses why project/program/portfolio managers need to understand & acquire this skill to lead the transformational aspects of strategic initiatives in this digital age. A Case Study of a successful transformational leadership will be discussed. Social media clips and digital surveys will be used to engage the participants. Harvard Business Review(HBR) articles/case studies on Transformation and Reinventing Team Leadership will be discussed to thrive in this digital economy. Participants earn 4 PDUs (3 Leadership PDUs + 1 Strategic PDUs). PMI members have the advantage of discounted rates for attending the half-day seminar.
After completing the course, you will be able to
1. Describe the new business & leadership opportunity created due to digital transformation.
2. Recognize different leadership behaviors and develop new digital skills for this era of technology, change in markets and social media.
3. Learn from Case Study/ examples presented and apply the transformation principles/ techniques to various projects.
This course is ideal for Business leaders, Project/Program management consultants & Practitioners.
Instructor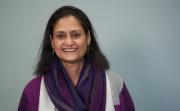 Shobhna Raghupathy is a senior leader and consultant with oversight and management experience of Strategic and Digital Transformational initiatives for over 20 years. Shobhna is an invited Board Advisory member at Harvard Business Review (HBR). She currently serves on the PMI Professional Awards Insight Team and as VP Education at a Toastmasters Club in Georgia.
An engaging and vibrant speaker, Shobhna has delivered over 50 presentations at conferences globally. She has also presented seminars/min-seminars for the past 15 years for PMI chapters in US and abroad. As a recognized & invited speaker she has virtually presented at PMI Virtual Experience Series (VES) & chapter events. Shobhna has published / co-authored many project management articles.
An entrepreneur, she has been engaged as a consultant in strategic initiatives at corporate/state levels. She contributed effectively to strategic optimization efforts through virtualization / cloud computing and led Agile initiatives using global delivery defining the Agile Transformation Roadmap.
Her PMI journey started in 2004 while launching the Marketing program at PMI Atlanta. She later served for eight years on many PMI Ethics committees where she was part of team that developed the PMI Ethical Decision-Making Framework and designed the PMI Ethics website.
Shobhna holds a Bachelor's degree in Physics and Master's degree in Computer Science. She is a 2008 EMEA graduate of PMI Leadership Institute Master Class and a certified Project Management Professional (PMP)®
When
Friday, June 24, 2022
9:00 AM - 1:00 PM
Registration
$199 --- PMI Atlanta Chapter Member (discount rate)
$299 --- Non-member (standard rate)
*** Early Bird Discount Through Friday, June 10, 2022 ***
Save $50!
$149 --- PMI Atlanta Chapter Member (discount rate)
$249 --- Non-member (standard rate)
PDUs Earned
Technical: 0 / Leadership: 3 / Strategic and Business Management: 1
Location
Virtual
RSVP by Tuesday, June 21, 2022
Please note that walk-ins on the same day as class are not allowed. Registration must be completed on-line in advance of RSVP date provided in course description.
* For additional information on the event, please call 301-674-5578.