Join us for a historic celebration dinner, honoring PMI's 50th Anniversary! This event will reflect on the past, explaining the motivation for founding PMI. With this bit of history as a backdrop, we will then take a look at what the future holds for the project management profession.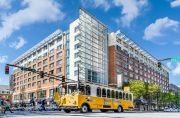 PMI's first formal meeting was held right in your backyard, on the premises of Georgia Tech, in the fall of 1969. PMI Atlanta is honoring the birthplace of PMI by holding this special event at the Georgia Tech Hotel and Conference Center, a world class event facility, situated on campus in midtown Atlanta.
Open Networking - 5:30pm - 6:30pm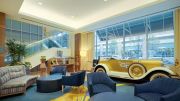 Network with your colleagues, while celebrating the enormous milestone for PMI. Networking will take place in the pre-funciton lobby and in the outdoor terrace. Have pictures taken with your friends and colleagues with the wrambling wreck in the backdrop! Cash bar is available.
"You Can Power the Change in the World" - 6:30pm-7:00pm
Leaders from the PMI Atlanta Chapter will highlight PMI's Global Celebration of Service, and show how the Atlanta chapter leads by example in the form of giving back to the community.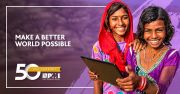 The 50th Anniversary is a time to reflect on the achievements of project managers and recognize the progress made by the profession. We also see it as a time to pull together in service, contribute our collective skills and passion, and make a difference in the world together. To accomplish this, PMI is supporting the United Nations' mission to align strategies and operations with universal principles on human rights, labor, environment, and anti-corruption, and take actions that advance societal goals.
Keynote Presentation "Reflections on Project Management and PMI" - James Snyder, PMI Founder 7:00pm-8:00pm
James will discuss how the profession has matured over the last few decades. Where did we come from and how did PMI play a role in building a new profession. This look back at the people, places, and environment will not only tell us about our history but will help us to understand where project management may be headed and how you can influence that direction.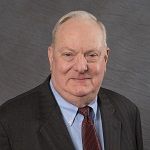 Mr. Snyder is retired from SmithKline Beecham Pharmaceuticals, (now GlaxoSmithKline – GSK) where he was Director, international Planning & Business Management, Strategic Product Development. Jim has 37 years' experience in the pharmaceutical Industry in computer sciences, operations research, international marketing, marketing administration and finance. He holds a BSIM form Georgia Institute of Technology and a MBA from Drexel University. He served as an officer in the US Army Corps of Engineers in the US and Germany.
He is a Founder of Project Management Institute, Fellow of the Institute, Volunteer Executive Director for 15 years, President, Chairman of the Board, and active participant in the activities of the Institute. He has been awarded the PMI Man of the Year Award and is an Honorary Life Member of the Institute. He received the 2010 James J O'Brien Lifetime Achievement Award from the PMI College of Scheduling. Jim is a founding member of the Delaware Valley Chapter, the Pharmaceuticals Special Interest Group, and the College of Scheduling. As a member of the PMI Global Project Action Team (1999 - 2000) he work to help structure the Institute to meet the challenges of 2000 and beyond. He was also a member of the Publications Board of the Institute. The James R. Snyder Knowledge and Wisdom Center at PMI Headquarters is named in his honor. He has served as both a member and Chair of the Educational Foundation. The PMIEF Student Paper Award is named in his honor. He is also serving as advisor and administrator to the PMI Delaware Valley Chapter.
Celebration & Social Hour 8:00pm-9:00pm+
After all of the festivities, we will open up the dance floor and turn up the music. What better way to cap off the evening to celebrate this historic occasion!
Three Course Dinner will be served at 6:30. Entree choices include Romano Crusted Chicken, Rosemary Grilled Rib Eye Steak, Seared Atlantic Salmon, and Cavatappi Pasta (vegetarian)
When
Monday, September 9, 2019, 5:30pm - 9:00pm
Location
Georgia Tech Hotel and Conference Center, 800 Spring St NW, Atlanta, GA 30308
Parking: The parking garage is adjacent to the Hotel. The rate is $6 for 3 hours or $9 for 4 hours.
Fees

Early Bird Registration expires Friday, August 31, 2019 at 11:59pm.
Dinner registration closes Friday, September 6th. Seat Only registration will remain open.
Walk-ins are accepted, but a dinner may not be available.
Special Thanks to Our Sponsors
Logging PDUs
Talent Triangle Category: 1.5 PDU, Leadership


PDUs can be claimed here
.
For detailed instructions, please visit the
CCRS User Guide
.
Meeting content, presenters, and location are subject change. Refunds will not be made for changes in meeting content, presenters, or locations.