The Agile Forum meetings offer an opportunity for professional networking and knowledge sharing with other agile practitioners as well as provide a learning environment for professionals interested in learning about agile techniques. Everyone is welcome to participate.
Presentation: "The Future of Project Management in an Increasingly Agile World" presented by Steve Kraus, Daugherty Business Solutions
Special Thanks to Our Sponsor:

Light refreshments and beverages will be provided.
Earn one PDU for attending this event.
When
Tuesday, May 16, 2017
6:00 PM - 8:00 PM
Where
Matrix Resources
1000 Abernathy Road
Suite 500
Atlanta, Georgia 30328
Fees
PMI Atlanta Member: $12.00, Early Bird Rate $10.00 throug May 9th
Non-Member: $15.00, Early Bird Rate $13.00 through May 9th
Please note: Effective May 2016, Forums will no longer accept cash registrations at the door. Please register in advance or via credit card at the door.
Walk-ins are welcome at the Non-Member rate.
---
Presentation Details:
The world of Project Management is being impacted by forces inside and outside of itself – from Agile/Lean approaches to elimination of specialization/silos and a desire to reduce overhead costs. In response, many key employers within Atlanta are changing – or even eliminating – their use of professional PMs. What does this mean to the future of Project Management? This presentation will focus on how PMs fit into this 'future state', and suggest next steps every PM can take to prepare themselves to succeed within this future state.
Talent Triangle Category: Strategic and Business Management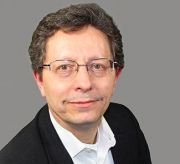 As a Certified Scrum Master and Certified Scaled Agile Coach (SPC), Steve Kraus has over 15 years' experience assisting organizations in making the transition to the agile mindset. Steve's Agile journey began when he was the CIO of a mid-sized company, where he led the conversion of their waterfall-based software construction efforts to an agile approach. He has been engaged at Fortune 100 companies across the Atlanta area, assisting them with Agile training, coaching, and planning as they begin their Agile journey. Steve is currently a Senior Principal with Daugherty Business Solutions, and serves as the Line Of Service Lead for their Project Management Line Of Service, which encompasses traditional and Agile project management, as well as other transformational offerings.
Logging PDUs:
For detailed instructions, please visit the CCRS User Guide.