The PMI Atlanta AEC Forum is a focus group that hosts regular events with ranging topics in the architectural, engineering, and construction fields. We will show the importance of solid project management in these related fields of study.
Presentation: "Engineer this! How to reconstruct the gender hype to benefit all employees – yes, including white men" presented by Elba Pareja-Gallagher
Light refreshments and beverages will be provided.

Earn one PDU for attending this event.
When:
Tuesday, June 13, 2017, 6:00 PM - 8:00 PM
Where:
Experis Engineering
7000 Central Pkwy NE, Suite 200 Conference Room
Atlanta, Georgia 30328
Fees:
PMI Atlanta Member: $12.00, early bird rate $10.00 before June 6th
Non-Member: $15.00, early bird rate $13.00 before June 6th
Please note: Effective May 2016, Forums will no longer accept cash registrations at the door. Please register in advance or via credit card at the door.
---
Presentation Details:
Engineering is about critically observing the work around us and solving the problems we find. Elba Pareja-Gallagher wants to solve a big workplace problem by re-engineering how employees and companies think about gender at work. We hear so much about gender issues but it can be an uncomfortable and tricky subject to talk about at work- as tricky as today's politics! Don't miss this opportunity to engage in a candid conversation to understand what the big deal is. Aren't things already equal? Why should you care? What's in it for you?

Men and women will find this meeting interesting, entertaining and very useful for work.
Talent Triangle Category: Leadership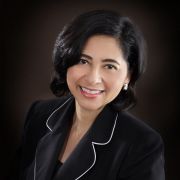 Elba Pareja-Gallagher is a finance and strategy professional with 20 years of experience at UPS. She's held roles in International Finance, Investor Relations, Marketing and Strategy. She lived as an expat in Asia for three years and currently works on a cross-functional team developing long term strategies for B2C commerce.

Elba is an active member of the Latino and Women's Leadership business resource groups at UPS. She recently took her passion for inclusion to the internet when she launched the non-profit organization ShowMe50. ShowMe50.org's vision is to achieve 50% women in senior leadership through a grassroots movement to influence policy change at work to level the playing field for all qualified people.

Elba holds a Bachelor of Business Administration degree from Millsaps College in Jackson, Mississippi, and a Master of Science in Supply Chain Management from the Florida Institute of Technology. She is an APICS Certified Supply Chain Professional and serves on the board of HOPE (Hispanic Organization Promoting Education).

Read Elba's latest UPS Longitudes post on blockchain
Logging PDUs:
For detailed instructions, please visit the CCRS User Guide.