If you experience any issues, please email admin@pmiatlanta.org for assistance.
Monday, September 21, 2020
5:00pm - 6:30pm
"Technology Delivery in a DevOps Organization: The role of an evolving PMO" presented by Elizabeth Coffey, Executive Director at Cox Communications
Presentation
Technology Delivery organizations have been adapting their PMOs to actively seek ways to improve overall organizational performance and ways to communicate performance improvements through the use of new technologies and flexible operating models. In this talk, you will hear about Cox's journey in achieving an evolved PMO within a DevOps environment.
Biography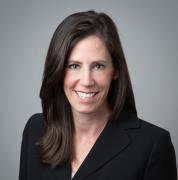 Elizabeth is a Technology Executive who is devising the vision and translating it into a tactical approach to meet business objectives. Elizabeth thrives in complex, ever changing environments with the ability to bring harmony across diverse subjects and personalities while ensuring the success of the overall organization. She is a strategic thinker, execution expert, team motivator and change inspirator through collaboration and leadership. Elizabeth is most proud of balancing being a wife, mom, and executive.
Most recently, Elizabeth designed and built an organization that focuses on Delivery, Operational, Technical, and Strategic Enablement across Enterprise Dev & Ops governing 3500+ resources (FTE/contractor) and $400M+ in budget. She is assisting with the evolution and transformation of DevOps by driving the effort to streamline delivery management and Cox Enterprise Development & Operations (ED&O) strategic initiatives - BizDevSecOps, Cloud & Resiliency, Workforce Transformation & Mobility, Life Cycle Management, Rationalization & Capital Allocation, Tier Support Alignment. Her teams connect the D.O.T.S. by partnering across the enterprise to address opportunities to maximize business value.
In prior roles at Cox Communications Elizabeth has run large complex programs, implemented enterprise process standardization, and owned development of customer facing applications/platforms.
Prior to joining Cox Communications, Elizabeth worked with the management consultancy Accenture, tackling operational and strategic challenges facing the nation's top Banking and Brokerage companies. She began her career in manufacturing at Milliken & Company as an elastic fabrics Department Manager
Location
Webinar
Fees
$8.00 for members, $10.00 for nonmembers
PDU
I PDU in Strategic and Business Management