Join us for our bi-monthly in-person chapter meeting! Earn up to 2 PDUs while building your professional network and enjoying a boxed dinner. Earn 1 PDU for attending the Professional Growth event and 1 PDU for attending the dinner meeting.
Newcomers Meeting - 6:00pm - 6:45pm
If you are a new member to PMI Atlanta, you do not want to miss this opportunity to hear how PMI Atlanta can help you achieve your goals and meet members of the leadership team.
Professional Development - 6:00pm - 6:45pm
"How to Succeed with Fixed Priced Contracts" presented by Dameon Proctor
Keynote Presentation - 7:00pm - 8:00pm
"Growth Mindset: A Guide to Personal and Professional Growth" presented by Sharell Thomas
---
Professional Development Presenter Biography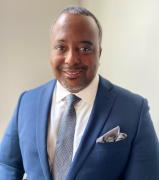 As a strategic, dedicated program management executive known for driving stellar performance and business development, Dameon Proctor has a stellar track record engaging in cross-functional collaboration to solve complex operational and strategic challenges. Throughout his career, he has established himself as an integral thought leader and contributor, leveraging his deep knowledge of engineering, program management, product strategy, finance and business development to cultivate growth while maintaining strong company cultures. He is a visionary leader committed to guiding organizations towards greater operational success while leading teams to resolve any challenges.
Since 2020, Dameon has served as a core member of the executive team leading Global Connections to Employment's Information Technology Line of Business, overseeing a $90M, 450-employee business division executing high-level DOD contracts. An impactful change agent and champion of continuous improvement, he has cultivated a significant list of achievements during his time at GCE. Dameon established the company's first Program Management Office to create cutting-edge solutions to operational challenges; improved the delivery, efficiency, and reporting accuracy of high-level contractual agreements by establishing KPIs based on industry best practices; and implemented new recruiting and retention practices to build and maintain a team of industry-leading top talent.
Prior to his employment at GCE, Dameon served in roles of increasing responsibility for leading defense contractor Northrop Grumman. At the firm, he established himself as a transformational strategic leader known for identifying operational pain points and transitioning struggling business units into profitable enterprises. Among other achievements, Dameon improved program performance business-wide by introducing the highly impactful Program and Engineering Best Practices and Lessons Learned Programs, and leading operations for a $200M operating unit. He also delivered $250K in cost savings by creating more efficient workstreams and secured several multimillion-dollar contracts, including a $16M deal, through relationship-building and partnerships with senior leadership.
An entrepreneur as well as an established program management executive, Dameon owns and operates PH Sphinx Lodging, a small lodging investment and consulting business focused on identifying hotel construction and development projects that deliver substantial value and risk-controlled returns for its investors.
Committed to continued professional development, Dameon holds a Project Management Professional (PMP) certification from the Project Management Institute as well as an Integrated Program Management certification from Northrop Grumman. Along with his professional ventures, Dameon is an active member of the Penn State Alumni Council, 100 Black Men of Greater Washington, D.C., IHG Owners Association, Alpha Phi Alpha Fraternity, Inc., and the Project Management Institute. Educated in both business and engineering, he holds a Master of Business Administration degree in finance from the Johns Hopkins University's Carey School of Business, a Master of Science degree in telecommunications management from the University of Maryland's Global Campus, and a Bachelor of Science degree in electrical engineering from Pennsylvania State University.
Keynote Presentation Details
A growth mindset of a leader makes every challenge a learning opportunity. Leaders with this mindset achieve high levels of productivity that can help their businesses and organizations thrive. In this session, you'll learn about the key characteristics of a growth mindset. You'll also explore methods of developing mindsets for success and how to leverage this in your business and organization.
Keynote Presenter Biography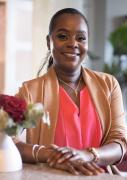 Sharell Thomas-Hodge is the Total Rewards Director for the YMCA of Metro Atlanta. She joined the company in 2020 and her responsibilities include compensation, executive compensation, benefits design & administration, and payroll. Prior to joining The Y, Sharell was the Director of Total Rewards at Dekra North America. During her tenure at Dekra she played a significant role in the acquisition of 7 companies and was a key architect in the creation of a total rewards program designed for the newly established safety company. She also worked for Strategic Benefits Consulting as a Senior Benefits Consultant, responsible for Executive and Global Compensation. Sharell is a graduate of Devry University and holds an MBA. She is a SHRM Certified Senior Professional. She has been a featured speaker at the Quit Commuting Conference. She currently serves on the HR Committee of the board at the Atlanta Mission. She is also the CEO of The Sharell Group, a coaching and consulting firm. Sharell enjoys reading, singing and spending time with her family.
When
Wednesday, November 9, 2022, 6:00pm - 8:30pm
Location
ROAM Innovative Workplace, 1151 Hammond Dr #240, Atlanta, GA 30346
Fees
Please Note: Early Bird Registration has been extended through Wednesday, october 26, 2022 at 11:59pm.
**Effective immediately - We will no longer be accepting cash/checks for walk-ins**
Meeting content, presenters, and location are subject change. Refunds will not be made for changes in meeting content, presenters, or locations.
Logging PDUs
Professional Development Session: 1 PDU, Power Skills
Keynote Presentation: 1 PDU. Power Skills


PDUs can be claimed here
.
For detailed instructions, please visit the
CCRS User Guide
.