Defining and Streamlining IRB Review of Reportable Events: A practical approach and Project Management Approach for Optimum Holistic Wellness
presented by Sarah Marie Huban, Children's Healthcare of Atlanta Director of Research Administration and Dr. Makeba Moring, Doctor of Holistic Health
The PMI Atlanta announces a new forum for 2018 - Clinical Research Forum. Join us in the 1st Quarter as we launch this exciting new forum in Marietta!
Presentation Details
Defining and Streamlining IRB Review of Reportable Events: A Practical Approach
A review the regulatory requirements for IRB review of important events in research and anticipate the audience will be able to draw informed conclusions that reflect an understanding of event reporting by the end of the presentation.
A Project Management Approach for Optimum Holistic Wellness
Communities around the world, especially in the eastern hemisphere of the planet have managed for millenniums to incorporate Holistic Health as a lifestyle. Ironically in the most technologically advanced countries in the world, the art of wellness as a lifestyle has become loss within the last century. This presentation will highlight statistically where we are in our physical and planetary health and how we may bridge the gap between technology, western lifestyle and Holistic healing and lifestyle by incorporating practical and simple Project management principles. Our Health is our greatest wealth. Companies invest large sums of money for major information technology projects, we have the option to invest large amounts of human capital and human efforts in our most important assets… Our Human and Planetary Health and Wellness!
Biography
Sarah Marie Huban is the Director of Research Administration at Children's Healthcare of Atlanta. Huban has over 10 years of experience in research, including working in the IRB offices at Emory University and Ohio State University. Prior to her current work in research administration, Huban worked on the "other side of research" at RTI, International in the Education Surveys Division. She currently serves as an IRB member on the Emory University IRB and is an active volunteer with Public Responsibility in Medicine and Research (PRIM&R). Huban received her BS from Ohio University and her MA in Communication and Journalism from Ohio State University. She holds a Certified IRB Professional (CIP) certification and is Certified in Healthcare Research Compliance (CHRC).
Dr. Makeba Moring is a Holistic Health doctor, Humanitarian, Vegan Nutritionist Expert, environmentalist, Mother and International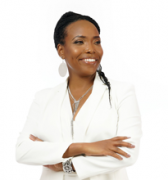 spokeswoman. With more than 25 years' experience in Holistic Health and Wellness she has not she practiced but also in lived the laws of Holistic Health and Wellness for herself and family.
Dr. Makeba has lived and studied in West Africa, the Middle East and in the United States. She uses her combined global knowledge in her practice and teachings to assist thousands in eradicating disease of body and mind and absolutely loves sharing the keys of the power of the human body when natural laws of life are applied properly. High blood pressure, Diabetes, Obesity, Bipolar, Schizophrenia, depression ,Autism, ADHD , Lupus, Auto-Immune Disease, Addictions and Cancer or just some of the dis-eases that Dr. Makeba has had great success in eradicating or greatly improving , all while giving the client an awesome learning and life-changing journey to their healing!
When
Thursday, June 13, 2019, 6:00 PM - 8:00 PM
Where
The Offices at 2470, 2470 Windy Hill Road SE, Suite 355, Marietta, GA 30067
Fees
PMI Atlanta Member: $12.00, early bird rate $10.00 before June 6th.
Non-Member: $15.00, early bird rate $13.00 before June 6th.
Light refreshments and beverages will be provided.
Forums will no longer accept cash/check registrations at the door. Please register in advance or via credit card at the door.

PDUs
Earn 1 PDU
Talent Triangle Category: Strategic & Business Management

PDUs can be claimed here.
For detailed instructions, please visit the CCRS User Guide.