Join us for our bi-monthly dinner meeting! Earn up to 2 PDUs while building your professional network, viewing new products and services, and enjoying dinner. Earn 1 PDU for attending the Professional Growth event and 1 PDU for attending the dinner meeting.
"Maximize Your Presence: Persuade Influence Inspire" presented by Nadia Bilchik, Greater Impact Communication
Join us before the keynote presentation for these optional meetings and networking:
Newcomers Meeting: 5:00pm - 6:00pm
If you are a new member to PMI Atlanta, you do not want to miss this opportunity to hear how PMI Atlanta can help you achieve your goals and meet members of the leadership team.
Topic: "Leadership from Within" presented by Sonja Williams, Shock Theory DLV, Inc

---
Date: Monday, May 8, 2017
Time: 5:00pm - 8:00pm
Location: The Westin Atlanta Perimeter North, 7 Concourse Pkwy NE, Atlanta, GA 30328
Keynote Presentation Details:
Are you as persuasive and influential as you could be? Do you project competence and confidence? Meet Nadia Bilchik, a CNN Editorial Producer and sough-after communications coach, who can show you just how to leverage your own communications talents. As project management experts, you can tap into the power of presence. Learn to persuade, influence and inspire. In her interactive keynote May 8 Nadia will highlight tips to assist you in projecting the very best version of yourself. This promises to be a dynamic presentation.
Talent Triangle Category: Strategic and Business Management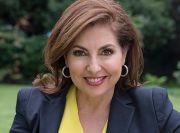 There is no such thing as success without successful relationships. People do business with people they know, like and trust. Internationally renowned speaker and CNN Editorial Producer Nadia Bilchik has built a career on her ability to establish instant rapport with everyone from Nelson Mandela to George Clooney. She is going to show us how.
Nadia has anchored and hosted feature programs for CNN International, MNet Television (South Africa) and reported for CNN Weekend. Nadia is currently Editorial Producer for CNN's Weekend Morning program.
Her uniquely dynamic, entertaining and substantive approach to communication skills training comes from here extensive experience in coaching business professionals and delivering keynote addresses to a broad range of audiences in the USA and globally, as well as interviewing high-profile figures, celebrities and corporate leaders. They include President Nelson Mandela, Tom Hanks, Meryl Streep, among others.
Nadia's clients include ESPN, Porsche, Hudson Bay Company, Starbucks, Turner Broadcasting, The Coca-Cola Company, Home Depot Corporation, INPO, Accenture, Imerys NA, Georgia Tech, North Eastern University, Commercial Real Estate Women's "CREW," and more.
See Nadia in action at http://nadiaspeaks.com/
Professional Development Presentation:
Join Atlanta entrepreneur Sonja Williams for Leadership from Within - a TED Talk style conversation that informs audiences how to motivate the mind to stay focused on achieving their best goals.

Your dreams or goals may be personal or corporate, and may be going up against seemingly insurmountable obstacles, but what you think is a limitation can be your ultimate strength.

Ms. Williams has stared down such giants never losing sight of the goal. She created several successful companies with only a 10th grade education. Today, her interactive marketing company produces digital projects for some of the largest corporations. With humility, she shares her story and experiences that will undoubtedly also spark those in attendance into action.
Talent Triangle Category: Leadership
Sonja Williams is the founder and CEO of Shock Theory DLV, a full-service interactive marketing agency, specializing in digital solutions for web and mobile applications; training, live event solutions for conventions, trade shows, concerts, and video productions. Previous clients include Ford, American Family Insurance, Burger King, Verizon and more.
Sonja's story is both motivational and inspirational. With few resources and limited education, Sonja used sheer drive and personal conviction to catapult her into prominence as a self- made business woman.

For more than 15 years, Williams has been delivering results-oriented, technology-focused projects that have yielded numerous awards, including Entrepreneur of the Year by FraserNET and the Atlanta Business League's Non-Traditional Enterprise of the Year.

A new strategic focus for Williams is to help underserved entrepreneurs launch, grow and sustain businesses within their community. At her core, Sonja has a love for helping people visualize their dreams through technology.
---
Please Note: Early Bird Registration expires Wednesday, April 26, 2017 at 11:59pm.
**Effective immediately - We will no longer be accepting cash for walk-ins**


Meeting content, presenters, and location are subject change. Refunds will not be made for changes in meeting content, presenters, or locations.
Logging PDUs:
For detailed instructions, please visit the CCRS User Guide.