"Healthcare Data in the Digital World: How its use and analysis drives better Healthcare" presented by Dr. Frances Ridley Boykin, AT&T Director Advanced Analytics
The PMI Atlanta Healthcare Forum has 9 planned sessions throughout 2021. Proposed topics include IT & IT PMO in Healthcare, Healthcare SME/Domain Forums such as Clinical, Laboratory, Research, Tomorrow's Healthcare & Government practices/law, Thought Leadership in Healthcare, and Innovation in Healthcare Technology.
Presentation
In recent years, we have seen an increase in the use of technology and data in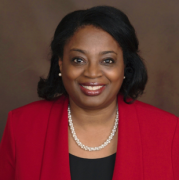 the healthcare industry. For example, we now have devices such as CPAP machines that contain sim cards that directly send sleep results to your physician. Your physician team can make changes to the device digitally to improve your sleep patterns.
We now have medicine bottles that provide alerts to ensure medicine is taken when needed. Diabetic patients can avoid finger sticks using devices such as the Freestyle Libre which monitors blood sugar levels and can connect to smart devices and your physician teams. With these devices comes much needed data and platforms that allow not only day-to-day monitoring of health, but also long-term predictive analytics and forecasting for future patient care.
As project and program managers it is up to us to help guide and facilitate initiatives that turn this data into useful analytics and products that foster company growth and provide positive impact to individual health.
Biography
Dr. Frances Boykin has worked in the telecommunications industry for over 20 years - across a variety of job functions within several organizations including Wireless IT, Compliance, Big Data, Global Supply Chain, and Customer Experience & Analytics. She is currently Director of Advanced Analytics for the Customer Advocacy organization at AT&T.
Dr. Boykin holds a Bachelor of Science in Computer Information System, an Executive Master's in Business Administration and a Doctor of Business Administration with a concentration in Marketing Analytics. She has held the PMI Project Management Professional certification since 2008 and spent the first part of her career working as an Information Technology Project Manager.
When
Wednesday, August 18, 2021, 6:00 PM - 7:15 PM
Where
Webinar
Fees
You will receive an email from the PMI Atlanta Chapter with the webinar link 24 hours before the event start time.
Due to coronavirus concerns, we will be hosting this event through webinar. Because of this change, member rate is now $8 and non-member rate is $10.
Meeting content, presenter, and location are subject to change. Refunds will not be made for changes in meeting content, presenters, or locations.
PDUs
Earn 1 PDU
Talent Triangle Category: Strategic & Business Management
PDUs can be claimed here.
For detailed instructions, please visit the CCRS User Guide.