The PMI Atlanta Special Interest Forums team presents: Our first in-person CAREER OPEN HOUSE "Ignite Your Career" - An Interactive Career Networking Event!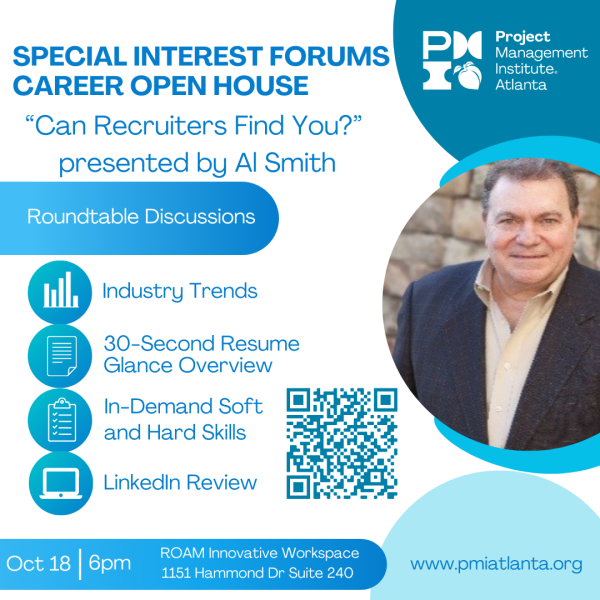 The PMI Atlanta Special Interest Forums team is excited to announce our first CAREER OPEN HOUSE, "Ignite Your Career" – an Interactive Career Networking event. The Special Interest Forums team is comprised of eight industry forums and Toastmasters (Agile, AEC, Clinical Research, Entertainment, Governance, Healthcare, Transportation, Technology, Entertainment, & Toastmasters). All 8 Forums and the Toastmasters club will join forces to host an interactive "career speed networking" event in partnership with our key players (i.e. corporate recruiters, HR professionals, placement companies, and hiring corporations).Our key players have expansive backgrounds that span across all nine of the special interest teams.
This career speed networking event will focus on providing tips and pointers to professionals looking for their next career move and leave with tangible action steps, plus new connections.... this is definitely an event that you do not want to miss!
During this interactive session, we will have designated roundtable discussions led by our key players centered around:
Ways to measurably improve career prospects and earning potential,
Industry Trends you MUST know for your next career move,
30 second resume glance overview* *(first come, first serve basis)
Top 5 hard and soft skills that are in high demand,
PLUS…How to represent yourself on LINKEDIN with LIVE LinkedIn Review
Ready to ignite your career? Join us for our first CAREER OPEN HOUSE!
Presentation
"Can Recruiters Find You?" presented by Al Smith, "The Hired Guy"
"The average person changes jobs 10 – 15 times during his or her career." Wouldn't it be great to have recruiters call YOU…but can they find you when they conduct searches?
Learning Objectives:
How job search is conducted
Why LinkedIn Page 1 placement is crucial
How to get to LinkedIn page 1
Live Searches…just like a recruiter does
Biography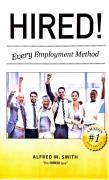 Al is author of the job search manual HIRED! Every Employment Method and was the predominant co-author of the Amazon Best Seller and #1 Top Rated, HIRED! Paths to Employment in the Social Media Era.
He has been an executive for seven companies in five industries with more than 35 years of executive management, sales, marketing, training, and coaching experience. Al's record of success includes being a multiple award-winner in each industry, which speaks to his innate ability to transfer skills to changing landscapes. Those skills now aid candidates with their most challenging "sales and marketing" challenge: job search.
Al has helped in excess of 1,000 people with their job search. His proprietary "Words-to-Work™" page-1 keyword methodology is the surest way to exponentially increasing profile views for the elusive Hidden Job Market and make it through the "Black Hole" of online resume submissions. "If you don't have the right words in the right quantity, you won't find work!"
Date
Tuesday, October 18, 2022, 6:00PM - 8:30PM
Location
ROAM Innovative Workspace, 1151 Hammond Dr Suite 240, Atlanta, GA 30346
Fees
Member Registration: $40
Non-Member Registration: $45
Boxed dinner will be provided.
If you would like to opt out of the boxed meal, please use discount code NODINNER in registration for an $8 discount.
PDUs
Earn 2 PDUs
Talent Triangle: Power Skills