The PMI Atlanta Special Interest Forums team presents: Our first in-person CAREER OPEN HOUSE "Ignite Your Career" - An Interactive Career Networking Event!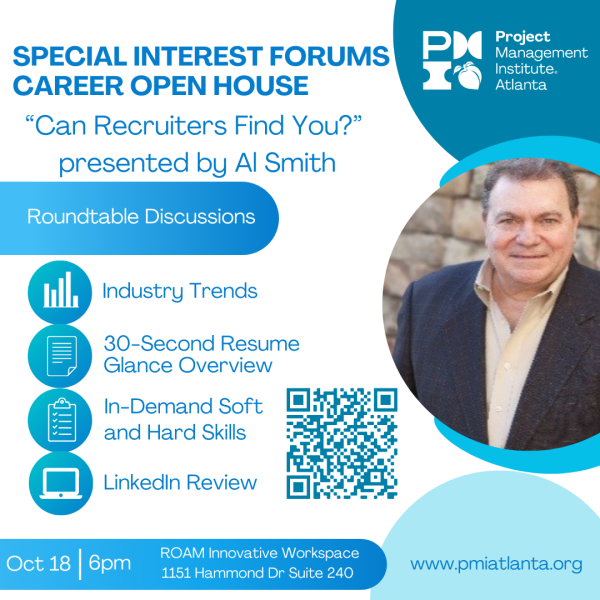 The PMI Atlanta Special Interest Forums team is excited to announce our first CAREER OPEN HOUSE, "Ignite Your Career" – an Interactive Career Networking event. The Special Interest Forums team is comprised of eight industry forums and Toastmasters (Agile, AEC, Clinical Research, Entertainment, Governance, Healthcare, Transportation, Technology, Entertainment, & Toastmasters). All 8 Forums and the Toastmasters club will join forces to host an interactive "career speed networking" event in partnership with our key players (i.e. corporate recruiters, HR professionals, placement companies, and hiring corporations).Our key players have expansive backgrounds that span across all nine of the special interest teams.
This career speed networking event will focus on providing tips and pointers to professionals looking for their next career move and leave with tangible action steps, plus new connections.... this is definitely an event that you do not want to miss!
During this interactive session, we will have designated roundtable discussions led by our key players centered around:
Ways to measurably improve career prospects and earning potential,
Industry Trends you MUST know for your next career move,
30 second resume glance overview* *(first come, first serve basis)
Top 5 hard and soft skills that are in high demand,
PLUS…How to represent yourself on LINKEDIN with LIVE LinkedIn Review
Ready to ignite your career? Join us for our first CAREER OPEN HOUSE!
Presentation
"Can Recruiters Find You?" presented by Al Smith, "The Hired Guy"
"The average person changes jobs 10 – 15 times during his or her career." Wouldn't it be great to have recruiters call YOU…but can they find you when they conduct searches?
Learning Objectives:
How job search is conducted
Why LinkedIn Page 1 placement is crucial
How to get to LinkedIn page 1
Live Searches…just like a recruiter does
Biographies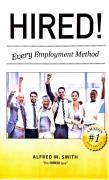 Al is author of the job search manual HIRED! Every Employment Method and was the predominant co-author of the Amazon Best Seller and #1 Top Rated, HIRED! Paths to Employment in the Social Media Era.
He has been an executive for seven companies in five industries with more than 35 years of executive management, sales, marketing, training, and coaching experience. Al's record of success includes being a multiple award-winner in each industry, which speaks to his innate ability to transfer skills to changing landscapes. Those skills now aid candidates with their most challenging "sales and marketing" challenge: job search.
Al has helped in excess of 1,000 people with their job search. His proprietary "Words-to-Work™" page-1 keyword methodology is the surest way to exponentially increasing profile views for the elusive Hidden Job Market and make it through the "Black Hole" of online resume submissions. "If you don't have the right words in the right quantity, you won't find work!"
Dana Neiger, Co-Founder at CHRO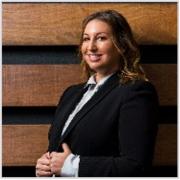 Dana's recruiting experience covers a wide range of industries such as accounting and finance, construction, engineering, light industrial and warehousing, sales and marketing, with a specialty in legal recruiting. Her human resources consulting background includes, JEDI, training, payroll, sponsorship, HRIS, networking, social media, and branding.
Dana is a graduate of the private women's college, Agnes Scott, located in Decatur, Georgia. She returns to campus multiple times a year to support their Summit program by volunteering for HR panels, LinkedIn seminars, interview preparation and other human resources related needs.
Outside of work, Dana enjoys spending time outdoors at sporting and live music events with her loving husband Dustin, their son Deagan and dogs, Gustav, Donnie Barko and Toni Bark.
Barbara Berman, Director of Training at LHH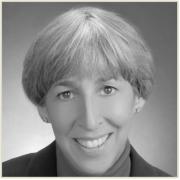 Barbara Berman is the Director of Training at LHH, the global talent mobility leader in connecting people to jobs and helping individuals improve performance. In her current role, Barbara is creating programs to support the professional development, onboarding and recognition of over 3000 LHH professionals working in career transition and mobility.

Previously as Senior Vice President and Regional Director of Professional Services, Barbara managed the delivery of career transition services in the Southern Region. Barbara has over 20 years experience in management and consulting across several industries. She has been recognized for her focus on quality, team development and customer service.
Prior to joining LHH, Barbara worked internationally with extensive background in training, management, and delivery of consulting services. Her experience is in both training organizations and universities. She has a proven track record of building strong client relationships, facilitating high quality presentations and successfully managing global projects to achieve business goals. She has been recognized as an outstanding communicator with success in creating new initiatives to serve national and international audiences.

Barbara holds a Master of Science in Education and has completed post-graduate work in Higher Education Administration. She is also a certified corporate coach and has worked closely with SHRM Atlanta, Girls Inc and Partners Against Domestic Violence (PADV). Barbara grew up in New York and has been in Atlanta for the last 30 years.
Tim Visconti, CEO and Founder of PeopleLift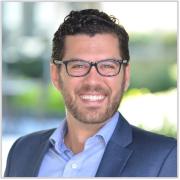 Tim is a husband, a father, and the CEO and Founder of PeopleLift, a rapidly growing Talent Recruitment Agency. PeopleLift specializes in helping Middle-Market Manufacturers scale-up high-quality talent pipelines quickly while saving money - more efficiently and more affordably than traditional RPO providers. The company operates in three countries with clients ranging from pre-revenue, high potential startups, to global Fortune 500 organizations. Additionally, Tim sits on the board of 2 different organizations supporting global empowerment causes.
Tim's previous executive experience has honed over 12 years in Fortune 500 organizations specializing in scaling startup People Operations functions. Tim has worked primarily in web/e-commerce organizations, but has also worked in Auto, Real Estate, Banking, Telecom, Supply Chain, CPG & hospitality industries.
Kelly Gardner, Account Executive at Matrix

I've been in the IT services industry for 18+ years. Helping companies solve business problems, build for the future and secure top talent for their organization is something that I feel uniquely qualified to do. Some days this feels like part trusted advisor/friend and others this feels like part therapist but I'm truly grateful to be in a position where I can help and I'm beyond grateful for my clients.
Over the past 15 years at MATRIX, I've focused my time helping our clients build high performance teams. It's such a privilege to partner with organizations that entrust me with helping them find their greatest assets – their employees! Building relationships & supporting my clients with exceptional customer service is something I take very seriously. And, hey, it's much better than my side hustle of being an unpaid Uber driver for my kids who are living their best amateur athletic lives!
Brett Horsley, Client Solution Manager at Robert Half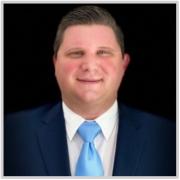 Brett has worked in the IT staffing and project consulting industry for nearly three years. Specializing in IT and software project consulting, his organization placed over 10,000 candidates in roles last year. Horsley's clients range from Fortune 500 to small startups. Brett serves as vice president for the Atlanta chapter of International Association of Microsoft Partners, and is active in the TAG, ATP, and Agile community events. He has a video series on YouTube and LinkedIn called Straight From the Horsley's Mouth, where he discusses industry trends, and interviews leaders in technology.
Tyler Courson, President of Core Executive Recruiting, LLC

Date
Tuesday, October 18, 2022, 6:00PM - 8:30PM
Location
ROAM Innovative Workspace, 1151 Hammond DrNE, Suite 240, Atlanta, GA 30346
Fees
Member Registration: $40
Non-Member Registration: $45
Boxed dinner will be provided.
If you would like to opt out of the boxed meal, please use discount code NODINNER in registration for an $8 discount.
PDUs
Earn 2 PDUs
Talent Triangle: Power Skills