Special Interest Forums Joint Open House
The PMI Atlanta Special Interest Forums team presents: Our 2nd Annual JOINT OPEN HOUSE "Project Management and Beyond – A Peek Into The Future" – An engaging panel discussion and interactive networking event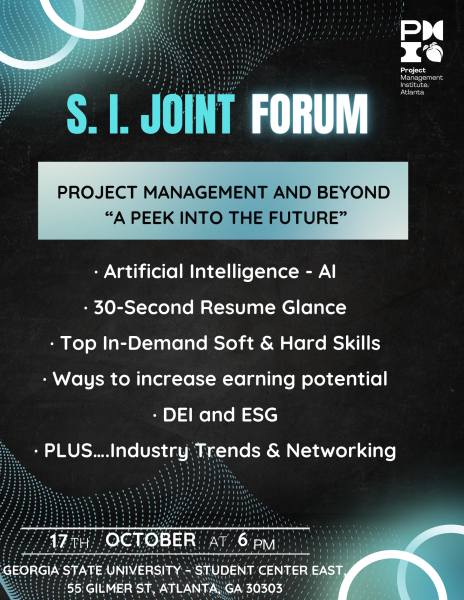 The PMI Atlanta Special Interest Forums team is excited to announce our 2nd annual JOINT OPEN HOUSE, "Project Management and Beyond - A Peek Into The Future" – an engaging panel discussion and interactive networking event. The Special Interest Forums team is comprised of eight industry forums (Agile, AEC, Governance, Healthcare, Technology, Transportation, Clinical Research and Entertainment) and Toastmasters. All 8 forums will join forces to host an engaging panel discussion and interactive networking event, in partnership with our key players (i.e., Recruiters & HR Professionals, Artificial Intelligence experts, DEI & ESG experts and Industry Subject Matter Experts).
Our key players have extensive backgrounds that span across all eight of the special interest forums, in addition to subject matter expertise in other specialized fields. This engaging panel discussion and networking event will provide professionals with insights into the future of Project Management and attendees will also walk away with tangible new network connections.
PLUS!!! Earn 2 PDUs. You do not want to miss this!
During this action-packed event, discussions and activities will be centered around:
Artificial Intelligence: AI's impact on the future of work and how to excel in the new era, as well as a peek into the rapidly growing field of "Applied AI"
Resume At Glance: 30 second resume glance (participants must register in advance)
Skills Development: Top hard and soft skills that will be in high demand
Professional Advancement: Ways to measurably increase career prospects and earning potential
Diversity Equity & Inclusion "DEI" and Environmental Social Governance "ESG" are now becoming critical workplace conversations and no longer just a "nice to have"
PLUS!!! Industry Trends and Insights from select Forums.
See what past attendees from our "1st Special Interest Forums Joint Career Open House – October 2022" have to say: <>
Ready to take a peek into the future? Join us for our 2nd JOINT OPEN HOUSE!
Biographies
Yvonne Dragon, Founder and Partner of The Dragon Group, LLC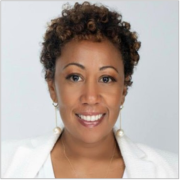 Yvonne Dragon is a Founder and Partner of The Dragon Group, LLC (TDG). She leads and executes projects centered around ESG Strategy, Sustainability Strategy, Healthy Building Consulting, Stakeholder Engagement and Owners Representation. Yvonne has been named twice by Georgia Engineer as a Woman to Watch. She serves as an entrepreneurial coach for Goldman Sach's 10K Small Business Program and Babson College and is a frequent contributor and speaker for the Urban Land Institute's Center for Leadership Program.
https://www.linkedin.com/in/yvonnedragon/
Dr. Frank Lee Harper, Jr. Scholar/Technologist/Coach/Author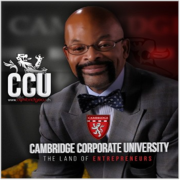 Dr. Frank Lee Harper, Jr. is a Distinguished Scholar, Industrial Engineer, Computer Technologist, Corporate Educator, Unconventional Strategist, Think Tank Mastermind, Agile Coach, and Published Author. He is also a serial entrepreneur adept at championing innovation and excellence to streamline data-driven processes and transformative uses of information and communications technology (ICT) across multiple countries, industries, disciplines, and technologies. Award-winning author-lecturer of the book "A.G.I.L.E. L.E.A.D.E.R.S.H.I.P. with a G.R.I.P.™" teaching agile leadership concepts worldwide. Certified Corporate Trainer and Coach. Speaker/TV & Radio Guest/Webinar Host/Executive Contributor with 20+ globally recognized professional certifications.
https://www.linkedin.com/in/drfharper/
Dr. April Ripley, Founder and CEO of The Premiere Image, Inc.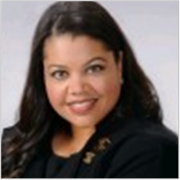 Dr. April Ripley is recognized as one of the top "100 Women Entrepreneurs in Atlanta", an acclaimed author, speaker, entrepreneur and an international protocol and image consultant. She is the founder and CEO of The Premiere Image, Inc., a company devoted to creating exceptional people and companies, specializing in etiquette and protocol instruction for today's ever-changing world.
Dr. Ripley has been sought after for advice and counsel by government officials, corporations, entrepreneurs, universities, schools, non-profit organizations, global initiative organizers, community leaders, celebrities, and more, across six continents.
https://www.linkedin.com/in/aprilripley/
Dana Neiger, Cofounder of HIVE Talent Acquisition Firm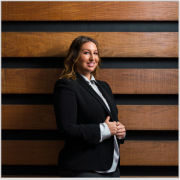 Dana Neiger is the proud Cofounder of HIVE Talent Acquisition Firm, an HR Consulting firm located in Sandy Springs, GA. Her recruiting experience covers a wide range of industries such as accounting and finance, construction, engineering, light industrial and warehousing, sales, and marketing, with a specialty in legal recruiting. Her human resources consulting background includes, JEDI, training, payroll, sponsorship, HRIS, networking, social media, and branding.
Dana is a graduate of the private women's college, Agnes Scott, located in Decatur, Georgia. She returns to campus multiple times a year to support their Summit program by volunteering for HR panels, LinkedIn seminars, interview preparation and other human resources related needs.
https://www.linkedin.com/in/dana-neiger/
Oliver Yarbrough, PMP, Author/Speaker/Trainer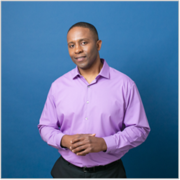 Oliver Yarbrough, PMP®, is an author, speaker, trainer, and leading expert in project management and growth strategies to raise competitiveness. He combines "hands on", real world experience with project management fundamentals. Oliver offers fresh insights and encourages his audiences to take action with a captivating, entertaining and down-to earth style. Mr. Yarbrough holds a master's degree from Babson College's F.W. Olin Graduate School of Business (MBA program ranked#1 in Entrepreneurship for 30 consecutive years by U.S. News & World Report). His professional career includes positions with Fortune 500 companies such as Lucent Technologies, Staples, and Sprint, along with his own successful business ventures.
https://www.linkedin.com/in/oliveryarbrough/
Doug Ware, Founder/Owner of Elumenotion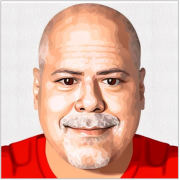 Transforming Generative AI into Custom Business Systems
Doug Ware is a long-time member of the Atlanta Technical Community. He ran the Atlanta .NET User Group for over a decade and is a former Microsoft MVP. Today Doug specializes in applied AI in software and education as owner of Elumenotion, a local AI strategy and consulting firm.
https://www.linkedin.com/in/douglastware/
Brett Horsely, Business Solutions Manager at Ledgent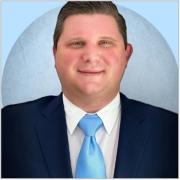 Brett Horsley is a Business Solutions Manager, at Ledgent Finance and Accounting, a leading staffing firm located in Atlanta, GA. With over a decade of experience in sales and marketing, Brett has built a reputation as a team-builder, coach/ trainer, mentor, and trusted advisor.
Horsley works as a professional consultant. He specializes in identifying talent, and matching candidates with optimal career opportunities. Brett's mission is to make life better, for the people he serves.
https://www.linkedin.com/in/brett-horsley-0b904237/
Amy Chestnut, Director of HR at Rare Disease Research, LLC, Davesa Health, LLC and Phan Institute of Clinical Research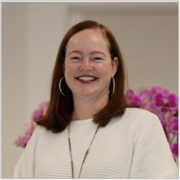 Amy Chestnut is the Director of Human Resources for Rare Disease Research, Davesa Health, Gooseberry and the Phan Institute of Clinical Research. She holds a bachelor's degree in organizational development and has nearly 20 years of human resources and leadership experience from a variety of industries. Amy is passionate about giving back to her community and has held multiple Board positions at a variety of non-profit organizations. She and her husband are avid tennis players and enjoy traveling with their daughters when they are home from college.
https://www.linkedin.com/in/amy-chestnut-370b5523/
Date
Tuesday, October 17, 2023, 6:00 PM - 8:30 PM
Location
Georgia State University – Student Center East, 55 Gilmer St, Atlanta, GA 30303
Parking
Recommended parking in Deck M (directions and map)
Please note: A $7 parking discount allowance has been applied to your registration fee.
Fees
Member Registration: $38.00, $30.00 early bird pricing before September 26
Non-Member Registration: $48.00, $40.00 early bird pricing before September 26
Boxed dinner will be provided.
If you would like to opt out of the boxed meal, please use discount code NOMEAL in registration for an $8 discount.
PDUs
Earn 2 PDUs
Talent Triangle: Power Skills