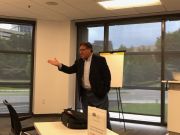 Written by Theresa McCoy
On June 11, 2019, Clint Padgett, President and CEO of Project Success Inc., was the featured speaker at the Architecture Engineering & Construction (AEC) Forum.
Clint opened up the presentation by describing his company's Project Success Method (PSM) as a set of generic principles, concepts and structured processes by which projects can be: clearly defined, thoroughly planned, and persistently controlled during execution to achieve project success. Clint discussed typical project challenges and the concept of the "worry curve" was introduced.
While all projects have challenges, exactly what they are is the great unknown when a new project is introduced. As a project begins, there is uninformed optimism, the "honeymoon" period, where project worry is postponed. This eventually turns into "vague concern" as the project deadline begins to appear. The final stage of worry, if left unchecked or unbalanced, as the deadline approaches is panic. The panic phase is the most expensive financially and emotionally for the project team.
So, what is a project leader to do? Cliff discussed these key phases of the "worry curve" when planning and executing a project. By first understanding some critical keys to success, such as team and customer agreement on the charter document. Early and ongoing project planning to gain individual team member commitment and buy-in throughout the project life-cycle. A project manager can successfully shift the project worry earlier in the project to avoid the deadline "panic" phase.
Thus, Clint emphasized the importance of planning to help mitigate the impact of unforeseen problems, by managing the project worry curve to yield higher quality projects.
---
About PMI
Atlanta Chapter serves Project Management Community in Metro Atlanta, and we're an active resource to corporations, community and government agencies throughout north Georgia. With over 5,000 members, PMI Atlanta is among the top 5 chapters in the world. Our professional expertise span across industries; we're the professionals building healthcare information technology systems, the engineers developing smarter public transportation, and the planners growing our communities more efficiently.