Written by Theresa McCoy
On August 13, 2019, Sarah Griswold, VP of Financial Planning & Analysis at Kindred at Home, was the featured speaker at the Architecture Engineering & Construction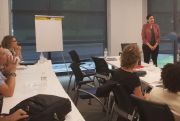 (AEC) Forum.
Sarah began her presentation by outlining the key elements of a Profit and Loss to ground the audience on terminology to understand financial basic concepts. She discussed the key drivers that impact a P&L and broke down each section to illustrate how they relate to a company's financial health.
Do your eyes glaze over at the thought of reviewing a Profit & Loss (P&L) statement? Are you confused by all the jargon and terminology? Not to fear, Sarah Griswold is here!
Gross sales, pricing, revenue, discounts and allowances, net sales, cost and distribution, all of these and more were clearly explained as Sarah walked through the definitions, drivers and key takeaways for each element of a Profit and Loss Statement. She drew on her past experience to provide examples of each area of a P&L. The example described how to interpret the information on a P&L statement and the identification opportunities to improve the bottom line of a project or business for long term success. Using real life project and business examples, Sarah made the financial "in's and out's" of a P&L less intimidating and more understandable for those who are less versed in the day to day business financials!
Sarah helped the audience to demystify the P&L to leverage it as a valuable financial tool in a project manager's "toolbox".
---
About PMI
Atlanta Chapter serves Project Management Community in Metro Atlanta, and we're an active resource to corporations, community and government agencies throughout north Georgia. With over 5,000 members, PMI Atlanta is among the top 5 chapters in the world. Our professional expertise span across industries; we're the professionals building healthcare information technology systems, the engineers developing smarter public transportation, and the planners growing our communities more efficiently.