Written by: Jacqlyn Shelton
Theodore Revilock delivered a fantastic observation of Value Stream Mapping (VSM), a valuable analytical technique used to map processes. The Agile community often uses VSM in conjunction with Scaled Agile Framework (SAFe).
Overview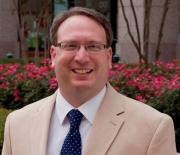 VSM is an analysis technique that documents and evaluates processes by gathering critical data needed to plan, improve, and implement an organization's operations to a lean state. To demonstrate the power of VSM, Ted walked us through a step by step value stream process that identified bottlenecking and other operational issues.
The VSM technique involves a continuous cycle of process checking that documents gaps and problems in a workflow. Current approaches are analyzed to improve future operations, creating a check and evaluation system that illustrates every development stage. Reviewing, documenting, and visually diagraming a process is necessary to determine if that process produced value during the implementation. Ted discussed the importance of using the appropriate data collection method to ensure accurate information is gathered to resolve bottlenecks. VSM collects Real-time data (RTD) to analyze, design, and plan a lean strategy; an example of RTD is going to the production line to see what caused the bottlenecking. Accurate information is essential when creating a lean plan.
Value Stream Mapping supports a Lean-Agile environment to maximize resources, minimize idle-time, and mitigate operational issues. The benefits VSM brings to an organization is measured by the output of a quality product, a decrease of Time-to-Market (TTM), and a boost in revenue.
Takeaways
· VSM evaluates a "Current State" (Bottleneck) and provides data to improve an organization's "Future State" (Lean Process).
· VSM identifies waste and non-productivity.
· VSM is a "Living Document," a continuous analysis of RTD.
· VSM maximizes resources, minimizes idle-time, produces quality products, reduces TTM, and increases revenue.
Next Event
Join us at the next PMI Atlanta Agile Forum on Tuesday, January 19, 2021, 6:00 pm - 7:15 pm.
Keynote Presentation: Up-Level Your Career in 2021- Career Planning Panel Register at www.pmiatlanta.org/events/event-calendar
---
About PMI
Atlanta Chapter serves Project Management Community in Metro Atlanta, and we're an active resource to corporations, community and government agencies throughout north Georgia. With over 5,000 members, PMI Atlanta is among the top 5 chapters in the world. Our professional expertise span across industries; we're the professionals building healthcare information technology systems, the engineers developing smarter public transportation, and the planners growing our communities more efficiently.