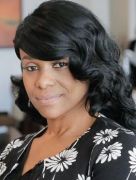 PMI Atlanta's Special Interest Committee, which includes the Industry Forums, Toastmasters Club, and Speakers Bureau, recognized Holly Davis for her dedication to the Entertainment forum over the past year.
From the very first Entertainment Forum meeting, Holly has been a steady presence on the volunteer team. There have been several meetings when she and the Forum Lead were the only volunteers availabel from the forum. Holly has been reliable, dependable, and trustworthy. And on top of that, she never complains. Most often, her very first question is "How can I help?" Holly has been the backbone for the Entertainment Forum through all the challenges in successfully getting this forum off the ground.
Please take a moment to thank Holly for her service to PMI Atlanta at the next Entertainment Forum!