Join us for a historic celebration dinner, honoring PMI Atlanta's 40 years of service to the community!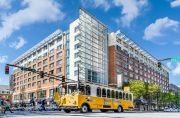 PMI Atlanta is honored to hold our event at the birthplace of PMI - Georgia Tech. Georgia Tech Hotel and Conference Center, a world-class event facility, situated on campus in midtown Atlanta, will host us for the evening and provide hotel rooms at a group rate of $159 for any guests wishing to stay the night. (Special room rate can be obtained here.) The night will be filled with networking opportunities, presentations, and a chance to show off your dance moves!
Leaders from the PMI Atlanta Chapter will highlight the Chapter's founding, growth, and show how the Atlanta chapter leads by example in the form of giving back to the community.
Three Course Dinner will be served at 6:30. Entree choices include Romano Crusted Chicken, Rosemary Grilled Rib Eye Steak, Seared Atlantic Salmon, and Cavatappi Pasta (vegetarian). Dinner selections will be collected at a later time.
If you are interested in sponsoring this event, please visit our sponsorship page.
When
Friday, October 22, 2021, 5:30pm - 9:00pm
Location
Georgia Tech Hotel and Conference Center, 800 Spring St NW, Atlanta, GA 30308
Parking: The parking garage is adjacent to the Hotel and charges for parking.
Fees
Members & Guests: $50
Nonmembers & Guests: $58
Sorry, the Dinner registration is closed.
Special Thanks to Our Sponsors
| | | |
| --- | --- | --- |
| | | |
COVID-19 Protocols
We have added space in the room to enable additional spacing. To ensure the safety of all of our members, we encourage everyone to wear a mask and obtain the vaccination if you are able.
Meeting content, presenters, and location are subject change. Refunds will not be made for changes in meeting content, presenters, or locations.