Written by: Jacqlyn Shelton
On October 16, 2018 the Agile Forum- PMI Atlanta Chapter presented a "Recruiter Panel Discussion" session which consisted of panelist whom provided tips and pointers to professionals looking to expand their careers into Agile, Scrum, or similar Project Manager (PM) opportunities. The attendees were professionals who desired career advice and/or expert evaluation of their credentials from Recruiters with decades of experience.
The interactive session began by capturing questions from the attendees and the panelist providing advice. The forum was moderated by Joshua Jack (Director of Transformation for MATRIX Resources) standing on right. Panelist were (right to left): Brandon Goodson (Recruiting and Talent Specialist for Strive Consulting), Chris Gegoudas (Recruiting Manager for MATRIX Resources), Nicole Plaisted (Professional Solutions/Business Development Manager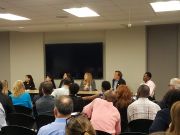 for TRC), Dalas Burns (Senior Recruiter for TRC Professional Solutions), Rachel Howard (Chief Cultural Officer for LeadingAgile) and Lisa Leff (Director of Recruiting for Genuent Technologies).
Panelist Tips/Pointers:
Always be ready to represent who you are and what you have to offer.
Be flexible with change, process, technology, opportunities, and commuting. The more flexible the more opportunities to get your dream job.
Honesty is critical on your resume and during an interview: Be transparent and open.
Managers want to hire people they like and trust.
If you meet 50% of the requirements on a job post, apply for the position. Apply for positions even if do not think you qualify because most job descriptions on websites or postings are not accurate.
Gaps in your Resume: Be honest about gaps in resume, hiring Managers know life happens.
Top 5 hard and soft skills that are in high demand for these roles
The forum concluded with two breakout sessions with Panelist and Attendees:
Resume-at-a-Glance (Review and evaluate individual attendee's resumes),
Panelist and Individual Attendees Questions/Answers (individual Attendees Question/Answers). Many attendees consulted with both groups.
The PMI Atlanta Agile Forum wishes to thank our location sponsor: MATRIX Resources. MATRIX Resources has 35 Years of Excellence experience providing Staffing, Agile and Digital transformation services to help companies solve tough IT and business challenges.
The PMI Atlanta Agile Forum provides value by helping members enhance their Agile implementation knowledge in an interactive setting, as well as, learn and share ideas on various Agile tools, techniques and best practices. Everyone is welcome! We look forward to seeing you at the meeting in January 2019.
Visit the PMI Atlanta website www.pmiatlanta.org to register.
---
About PMI
Atlanta Chapter serves Project Management Community in Metro Atlanta, and we're an active resource to corporations, community and government agencies throughout north Georgia. With over 5,000 members, PMI Atlanta is among the top 5 chapters in the world. Our professional expertise span across industries; we're the professionals building healthcare information technology systems, the engineers developing smarter public transportation, and the planners growing our communities more efficiently.