Written by Deborah Johnson, MBA MPH PMP
On December 11th 2018, Stephen (Steve) T. Hopper, PE, Founder and Principal of Inviscid Consulting was the featured presenter at the Architecture Engineering & Construction (AEC) Forum.
Last year ,the Material Handling Institute (MHI) released The Material Handling & Logistics US Roadmap 2.0. This report predicts how supply chains will evolve between now and the year 2030. The result of a comprehensive, seven-month study involving more than 200 supply chain-industry thought leaders. Steve Hopper was one of the Roadmap's participants and roundtable leaders, as well as a researcher and a co-author of the final report.
In his presentation, Steve Hopper listed the driving factors and disruptors predicted to shape the future of supply chain. Then he discussed the implications of these forces/disruptors. Key subject matter areas of change included:
Technology

Consumers

Workforce

Logistic Infrastructure
This was a fascinating presentation! The futuristic, "Jetson-like" realities of these changes already underway were both amazing and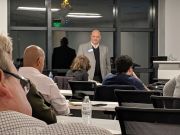 unsettling. These are the things we could hardly imagine 5 years ago. Such concepts as fog computing (aka the "internet of things), mass-personalization and the "non-human" workforce to name a few. The pace of change is higher than ever and it continues to accelerate.
In conclusion – change is inevitable and fast. It's important to recognize the driving forces and disruptors affecting supply chain as well as their implications. Then invest accordingly into infrastructure and developing the capabilities to thrive. Steve closed by offering the group copies of the actual report from Materials Handling Institute (available upon request) by contacting him directly.
To learn more about Architecture, Engineering and Construction Forum and the value it brings to projects, please join us at a future forum. The calendar can be found on the PMI Atlanta web site at http://www.pmiatlanta.org.
---
About PMI
Atlanta Chapter serves Project Management Community in Metro Atlanta, and we're an active resource to corporations, community and government agencies throughout north Georgia. With over 5,000 members, PMI Atlanta is among the top 5 chapters in the world. Our professional expertise span across industries; we're the professionals building healthcare information technology systems, the engineers developing smarter public transportation, and the planners growing our communities more efficiently.