Written by Claudia Greene, PMP
PMI Atlanta Healthcare Forum enjoyed an informative and interactive presentation on Change and Change Leadership delivered by Charles Johnson.
Charles' career spans many years in customer service assignments including Sales, Management, and Operations, integrating technologies such as Sales Force, Mobility, Business Intelligence, Big Data and advanced analytics to bring a better experience and solve customer and employee challenges.
Charles began his presentation with a bit of humour – a picture of a dinosaur with the caption "change is inevitable." He went on to discuss change – its impact on everyone, business and personal. Charles presented attendees with visuals – F.W. Woolworth Co., Blockbuster Video Stores, Sears Christmas Catalogs – asking attendees if they could remember these. He then engaged the group in discussing what happened to each of these businesses. Simply put – change. Technological advances began to allow others to offer new and existing products and services via different avenues, creating competition for the front-runners. He explained that when companies are slow to embrace change and make adjustments to be competitive, they become obsolete.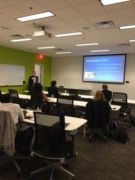 Charles shared with the attendees that technology is changing at breakneck speed. He did a comparison of music players – from the Walkman to DVD/CD to I-pod. He explained that the individual with the original idea for a handheld music device did not garner interest by large companies, thus, he was not taken seriously, until he approached Apple. Apple could see the big picture and he was hired and we all know the success the I-pod has been, as well as the other products that have evolved because of it. Charles parlayed the reality of this missed opportunity into why we fail at change. He stated a number of reasons companies fail at change – fear, skill gap, not understanding the impact, failure to think it through, managerial courage, budget, commitment. Charles pointed out that successful change requires people, the right people, thus stakeholder analysis is critical.
Here are some questions to consider during stakeholder analysis:
• Ultimately, what is important to the customer and what is this person's role?
• How will they impact success?
• Leadership ability to stay the course, buy in?
Charles moved on to address the big picture of change. He emphasized that change is not a maybe, but guaranteed – so embrace and plan for it. Leading change requires ensuring engagement at all levels. Lastly, Charles stressed measuring the progress of the change in real-time and making adjustments/corrections if needed. He invited the attendees to look at John Kotter's 8 steps to change model, as it presents an outline for leading change.
Charles concluded his presentation with humor – another picture of the dinosaur – this time with a caption that stressed, "Without the power to adapt, things can get a little risky."
Detailed information on all the upcoming Forums can be found at: http://www.pmiatlanta.org. Please join us!
---
About PMI
Atlanta Chapter serves Project Management Community in Metro Atlanta, and we're an active resource to corporations, community and government agencies throughout north Georgia. With over 5,000 members, PMI Atlanta is among the top 5 chapters in the world. Our professional expertise span across industries; we're the professionals building healthcare information technology systems, the engineers developing smarter public transportation, and the planners growing our communities more efficiently.