Written by: Deborah Johnson, MBA MPH PMP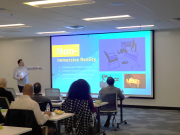 The December PMI-AEC meeting held at ConstructConnect was an introduction to the impact of Virtual Reality on Construction Bidding and other aspects of the Construction Engineering Industry.

Featured presenter was Macrae Cain, MBT, and CEO of the Digital Media House, a digital marketing company that specializes in VRchitecture and marketing. VRchitecture is a fully immersive virtual reality process for creating VR build models of architectural projects to be constructed. Mr. Cain took the attendees through an introduction process of how VR has evolved and the step by step impact it will have on all phases of the design and construction process as well as the legal impacts of archiving VR build models.

The DMH team then took the attendees through a visual 2D-VR build model to introduce to them the value that Build models bring to the industry. Most importantly the demonstration illustrated how to look through the walls and floor to see the framing and utilities of the design. Upon completion of the visual demonstration, each attendee was provided a VR headset to experience a real-time interactive immersion into the same VR model as demonstrated.
---
About PMI
Atlanta Chapter serves Project Management Community in Metro Atlanta, and we're an active resource to corporations, community and government agencies throughout north Georgia. With over 5,000 members, PMI Atlanta is among the top 5 chapters in the world. Our professional expertise span across industries; we're the professionals building healthcare information technology systems, the engineers developing smarter public transportation, and the planners growing our communities more efficiently.