Written By Dana Moore
Overview
On Tuesday, February 18, 2020, the PMI Atlanta Chapter - Agile Forum presented "Organizational Culture and Outcome in the Digital Age" by Eric Norman, PMP, CSM, PgMP. Eric's professional background and experience exhibits distinguished characteristics in this category. Eric Norman is very passionate about this topic as he started out discussing business issues – "we always focus on delivery and not the work we do - an impediment is that we think we have it all figured out" - organizational change.
The presentation focused on three topics:
1) The Missing Organizational Enabler - Organizations are flattening out and they are not engaged or producing expected results. They can improve the capacity of work by eliminating waste.
2) Organization Not Engaged - Organizations are not producing expected results. For example, controlling the criteria, and cost of failure is absolute-failure versus the cost of delay which is not an absolute-failure.
3) Transforming Organizational Culture - Engaging Change Management is a planned approach and can be aligned with necessary changes. For an example, adapt to change with things around you and develop a plan and make it work. Keep in mind the benefits need to be established in the beginning and not in the end, as most organizations lean toward.
Transformation Enablers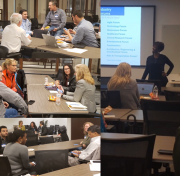 1) Strategic Alignment | Align targets, achieve your outcome
2) Communications | Participation across the entire organization
3) Meaningful Metrics | Measured progress
4) Policies and Systems | Reward aligned with your culture
5) Structure | Enable collaboration
6) Stakeholder Engagement | Communicate at all levels
7) Leadership and Delegation | Act in the best interest
Takeaways
• Agility is not always equal to adaptability
• Adaptability is sensing what is going on around you and respond quickly and effectively
• New Triple constraint is Agility, Adaptability and Opportunity
• For successful organizations, focus on business outcomes and respond to feedback
• Companies that respond to feedback, create culture, and an environment that orients towards successful organizations
• Organizations that focus their attention on the outcome instead of pilot models become more successful
Next Event
Join us at the next PMI Atlanta Forum, On Tuesday, March 17, 2020.
Register at www.pmiatlanta.org/events/event-calendar
---
About PMI
Atlanta Chapter serves Project Management Community in Metro Atlanta, and we're an active resource to corporations, community and government agencies throughout north Georgia. With over 5,000 members, PMI Atlanta is among the top 5 chapters in the world. Our professional expertise span across industries; we're the professionals building healthcare information technology systems, the engineers developing smarter public transportation, and the planners growing our communities more efficiently.