Written by:Mike Ososki, PMP
Overview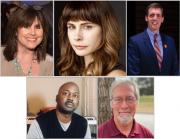 Everyone continues adjusting to life with COVID. Despite nearly universal challenges, overall, people seem to be doing well. We're maintaining a positive mindset, looking forward to a post-pandemic future, whenever it may be.
Beth wears many hats and has a good overview of Nashville and fundraising. She feels that gamification and hybrid events will increase, especially with the enhanced ROI of virtual events vs. costly, high-touch, in-person gatherings of the past.
Along these lines, Eric has reduced spend by doing more online conferences. While TV production has been very slow this year, ads and commercials are still going strong. He states that, "We can deal with whatever challenges happen."
Nick handles athletics for one of the largest high schools in Georgia. While the going's been tough, (eg: less attendance and scholarships), he's learned lots of beneficial new tech, like live streaming and all-electronic ticketing.
Todd's organization had big plans for large events this year, so it's been catastrophic. They now mitigate with extensive safety treatments of any indoor venue. He says that, "the pandemic has caused people to change their habits, the holy grail for sales and marketing."
While Coley asserts doing only online acting is super-frustrating, she echoes a common theme from many that now we have more time to learn and do other things. But like the entire planet, she "looks forward to being with people again and not being afraid we'll hurt each other."
Takeaways
Online virtual meeting and events continue for now as the #1 way for people to safely interact.
Humanity is strong and resilient, able to adapt and flex impressively more than we may have previously believed.
We'll get through this. Meanwhile, let's make do as best we can.
Next Event
Join us at the next PMI Atlanta Entertainment Forums in 2021.
Register at www.pmiatlanta.org/events/event-calendar
---
About PMI
Atlanta Chapter serves Project Management Community in Metro Atlanta, and we're an active resource to corporations, community and government agencies throughout north Georgia. With over 5,000 members, PMI Atlanta is among the top 5 chapters in the world. Our professional expertise span across industries; we're the professionals building healthcare information technology systems, the engineers developing smarter public transportation, and the planners growing our communities more efficiently.