Written By Glenn Boylan, PMP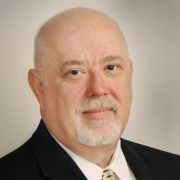 The January Technology Forum was held on Tuesday, January 31st, and featured a very interesting keynote presentation titled "We Have Met the Enemy, and He Is Us: Cyber Security Issues and What You Can Do About Them" presented by David Scott.
Steve Kruger and Nancy Berlin kicked off the event which was hosted by Hewlett-Packard Enterprise in their new café at their office in Alpharetta. The café has been completely re-done and is a beautiful facility for both HP-E and HP employees. Our thanks to HP-E for sharing it with PMI Atlanta.
The Forum also wants to thank the Rezult Group which sponsored the food for the event, and provided some great swag for the meeting attendees. The Rezult Group provides staffing solutions for companies seeking talent in healthcare IT, finance, accounting, and of course, technology. They have just opened an Atlanta office. For more information, go to their web site at www.rezultgroup.com.
Steve and Nancy reviewed PMI Atlanta volunteer opportunities and events, including this year's Technology Forum schedule. The Tech Forum will meet on the fourth Tuesday of the month except for August (when Nancy will be at the beach) and December. Melody Cookson announced that there will be an Alpharetta series of the popular "PM in the AM" breakfast meetings on the third Wednesdays of each month, starting April 19th. For more information on volunteering and upcoming events, go to the chapter web site at PMIAtlanta.org.
Nancy then turned the meeting over to David Scott of Mission Advantages, LLC. David got everyone's attention by asking the question "Are you aware of the greatest threats and risks to your organization?" and he kept it by linking The Varsity, a rubber duck, and Mountain Dew to the key basic principles of cyber security.