By Neil Rivenbaugh
The Healthcare and Technology Forum conducted a joint forum to present the annual Career Night Recruiter Panel. The event brought together three experienced recruiters and a corporate HR expert to provide insight and advice to help attendees improve their resume and assist in their job search.
The Recruiter Panel included the following recruiters:
Brittney Schelich, Business Development Manager from the Rezult Group
David Sheehan, Branch Manager for the Atlanta Robert Half Technology and The Creative Group
Holly Bail, Talent Manager for OneSpring
Ebonee Younger, HR Employment Practices consultant for Cox Communications
David Baba of the Intersect Group was also available to answer questions and offer advice
A large and eager audience brought a high degree of interest to the Forum and there was an extended networking session to begin the activities. Nancy Berlin, Program Manager for the Technology Forum, asked questions to the panel and each panelist shared many nuggets of wisdom around the subjects of current hiring trends, compensation, how to be an effective networker, creating a resume that gets attention, and other topics to help candidates land the job they want.
One of the points made by Ebonee was that a company is empowered by its people. Ebonee stated that an employee should put their best foot forward at work by "owning their happiness". Ebonee and Holly both emphasized that a job hunter should perform research and have a solid understanding of what they are worth and what is wanted from the employer. The recruiters recommended thinking outside the box on what the company can provide, beyond just salary. Examples of this include looking for more intrinsic benefits such as paying for certificates and additional vacation days. Ebonee highly recommended the book "Find Your Why: A Practical Guide for Discovering Purpose for You and Your Team" by Simon Sinek. It is important to know what makes you happy.

One of the recruiting challenges mentioned by David Sheehan is that the current climate makes it very difficult for finding qualified candidates. According to David, there are about 5 openings for project managers in Atlanta for each qualified candidate. Due to this shortage, companies have been raising the salaries they are offering and adding new perks. It was suggested that if an employee desires a pay raise or more responsibilities, have the conversation with the employer now instead of waiting for when a new offer in in hand to leverage. Holly added that most people quit because of poor experiences with bosses and not because of the company per se. Brittany mentioned that career choices are often family decisions.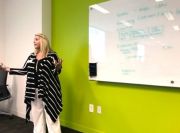 Each recruiter highlighted the importance of networking for career growth. They stressed that it is important to make networking an intentional and regular activity. The key to building a sound network is to build relationships by finding ways to help others. It is critical to build a strong and supportive network before you actually need it.

Another trend that was discussed was the growth of contingency workers. Many young workers now want a series of short gigs, allowing them to feel more in control over their own career paths. The "Temp to Perm" model is perceived as slowly going away.
Another popular topic was how to have an effective resume. Some general recommendations included: trying to keep it to 2 or 3 pages, Show your certifications, and focus on last 3 to 5 years of experience with the number of bullets getting smaller as it goes back in time. There is no need to really go back more than 10 or 15 years. List accomplishments that evoke the most pride such as how much money a project saved for the company or how a project was delivered ahead of schedule.
Please join us Wednesday, August 15th from 6:00 p.m. to 8:00 p.m. at the Healthcare Forum for the Keynote Presentation:
"How to Leverage Your PM Strengths in an Unfamiliar Role"
Presented Dr. Jerrica Dodds, Your Pharmacy Advocate, LLC/ CEO and Principal Pharmacist Advocate
Location: Philips Healthcare
PHA Academy
One Deerfield Centre