Written by Ty Lamar
Heather Casey presented the John Maxwell's DISC method. This is a personality assessment tool that's useful in improving team communication and collaboration.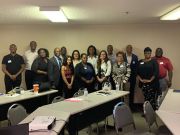 The personality types identified by this method is as follows:
D – Dominant – 3% of the population – Seeks Control / Decisive / Direct
I – Influencing – 11% of the population – Persuasive / Spontaneous / Friendly
S – Safety – 69% of the population – Team-Oriented / Follow-Through / Loyalty
C – Compliant – 17% of the population – Analytical / Planner / Accuracy
Heather discussed the strengths and weaknesses of each personality type in detail and the communication strategies for each. She indicated that people are usually dominant in two of the personality traits. She created an engaging session with scenario based examples the promoted audience participation.
Heather's presentation was followed with a video highlighting current medical advances provided by Professor Toks. This video introduced an affordable portable scanning device that connects to your smart phone and act as a portable scanner for different parts of the body. This device emits a fraction of the radiation compared to CT scans. Doctors will be able to use this device to aid in quicker diagnosis at a much lower cost.
---
About PMI
Atlanta Chapter serves Project Management Community in Metro Atlanta, and we're an active resource to corporations, community and government agencies throughout north Georgia. With over 5,000 members, PMI Atlanta is among the top 5 chapters in the world. Our professional expertise span across industries; we're the professionals building healthcare information technology systems, the engineers developing smarter public transportation, and the planners growing our communities more efficiently.