Written By Jacqlyn Shelton
On January 15, 2019, the Agile Forum of Atlanta presented the "Backlog Planning Exercise" led by Rob Phillips (Principal Solutions Architect/AgileCraft) and Sara Phillips (CSM, PMP, PE, and Project Manager).
The purpose for the "Backlog Planning Exercise" was to generate and rank topics for the 2019 Agile Forum Event Calendar. The backlog process began with the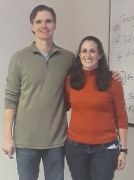 formation five self-managed brainstorming groups. Each person in the group generated an idea about their favorite Agile topic, something they wanted to learn or believed others would benefit from learning.
The second phase of the backlog process utilized the ranking method. Each person used a point-value scale to grade their colleague's idea. The idea with the best evaluation from their colleagues moved on to the next level of scoring. The brainstorming sessions generated twenty-one potential Agile topics to explore.
In the last phase of the process, Rob and Sara explained how to execute multiple scoring and the evaluation methods that can be utilized to rank topics. All of the attendees participated by voting in a ranking session that highlighted defined business values applicable to the Agile Forum. The forum was successful in generating a backlog of topics for the Agile Forum Event Calendar.
Thank you, Rob and Sara Phillips, for facilitating and demonstrating a process that encouraged interaction among the participants, that engaged the participant's creativity, and that executed the agile decision-making process.
Thank you, MATRIX Resources for sponsoring the PMI Atlanta Agile Forum.
MATRIX Resources has 35 Years of Excellence experience providing staffing, agile and digital transformation services to help companies solve tough IT and business challenges. Visit www.matrixres.com for resources and information.
The PMI Atlanta Agile Forum provides value by helping members enhance their Agile implementation knowledge in an interactive setting, as well as, learn and share ideas on various Agile tools, techniques, and best practices. Everyone is welcome!
We look forward to seeing you at the February 19, 2019 meeting at 6 pm. Register at www.pmiatlanta.org
---
About PMI
Atlanta Chapter serves Project Management Community in Metro Atlanta, and we're an active resource to corporations, community and government agencies throughout north Georgia. With over 5,000 members, PMI Atlanta is among the top 5 chapters in the world. Our professional expertise span across industries; we're the professionals building healthcare information technology systems, the engineers developing smarter public transportation, and the planners growing our communities more efficiently.