Written by Claudia Greene, PMP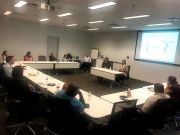 PMI Atlanta Healthcare Forum enjoyed an informative and interactive presentation delivered to us by Erica Cockfield and Carrie Delong.
Carrie and Erica delivered an exciting and engaging presentation through a tag team effort with role play. We learned through several interactions with the tandem that making your way to 'rockstar status' is as much about making other people shine, as it is about achieving your own goals. It is not necessarily about being in the spotlight at all times, but sharing the spotlight, identifying and acknowledging other stakeholders along the journey.
Erica closed by stressing that Customer Success is enterprise success which leads to happy employees who have been energized, united and aligned through the customer success experience.
---
About PMI
Atlanta Chapter serves Project Management Community in Metro Atlanta, and we're an active resource to corporations, community and government agencies throughout north Georgia. With over 5,000 members, PMI Atlanta is among the top 5 chapters in the world. Our professional expertise span across industries; we're the professionals building healthcare information technology systems, the engineers developing smarter public transportation, and the planners growing our communities more efficiently.