Written By Deborah Johnson, MBA, MPH, PMP

Overview
On February 11th, 2020, Michael Pink, CEO of SmartPM Technologies, Inc. was the featured presenter at the Architecture Engineering & Construction (AEC) Forum.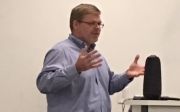 Michael Pink drew from his 17 years of experience in the construction industry, with roles in Program Management, Risk Advisory and Dispute Resolution. He showed how schedule delays, cost overruns, and how disputes can be avoided. He noted that on average 75% of construction projects are delayed and 59% are over budget; costing the construction industry trillions of dollars each year.
The problem? Schedule analysis is not planned for or conducted until things have become problematic. This can be due to over-optimism at the onset and fear to face the implications of delays (time, scope and money).
The solution? Construction schedule analytics. The construction schedule is the most powerful yet most misunderstood data set in construction. The schedule goes far beyond a planning tool. It is the sole analytical tool that shows how everything is inter-related. These shared relationships are clearly defined across all processes in all projects.
As CEO of SmartPM Technologies, Inc, Michael Pink has developed a technology that regularly analyzes schedule quality, delays, compression, feasibility and risk on construction projects. This technology can perform an accurate critical path analysis with minimum human involvement and happens to be the only technology of its kind.
Takeaways
For project success, intensive schedule analysis should occur from the very onset of the project throughout the life of the project. Analysis check points include:
SCHEDULE QUALITY – Built based on best practices, sound logic and realistic expectations
SCHEDULE DELAY – adjusted to cover potential risk
SCHEDULE RECOVERY – to make sure all parties understand the in-progress decisions being made on a regular basis
FEASIBILITY – based on historical data
PREDICTIVE ANALYSIS
Next Event
Join us at the next PMI Atlanta AEC on Tuesday, March 10th, 2020.
Keynote Presentation: "Curiosity Lab at Peachtree Corners" presented by Greg Ramsey, PE, Director of Public Works & Engineering
Register at www.pmiatlanta.org/events/event-calendar
---
About PMI
Atlanta Chapter serves Project Management Community in Metro Atlanta, and we're an active resource to corporations, community and government agencies throughout north Georgia. With over 5,000 members, PMI Atlanta is among the top 5 chapters in the world. Our professional expertise span across industries; we're the professionals building healthcare information technology systems, the engineers developing smarter public transportation, and the planners growing our communities more efficiently.