Written by Deborah Dillard Johnson, MBA, MPH, PMP
Presentation Overview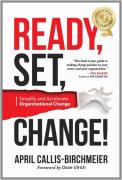 April Callis-Birchmeier CSP, PMP®, CCMP™ of Springboard Consulting, presented "Ready, Set, Change!" a simplified, methodical approach to organizational change management. Organizational change management is defined as moving an organization and its stakeholders from the current state to a future state. Following the 5-Step Approach of the "Ready, Set, Change!" model checks all the boxes essential for successful change adaptation.
The model is based on the easy-to-remember acronym R.E.A.D.Y. where:
R = Relevant and Relatable
E = Engage Leaders and Sponsors
A = Advanced Communications
D = Develop and Support
Y = WHY; the remedy for resistance
To supplement this model, April presented several useful tools. Some examples: one tool was for engaging project sponsors and clarifying their role in accelerating organizational change. Another tool was for classifying resistance to change personalities in order to address them head on.
Lastly, April recommended the Certified Change Management Professional credential CCMP™ to position yourself as an exceptional professional who can lead organizational change.
Takeaways
Never under-estimate the power of a relatable story.
Follow the "Ready, Set, Change" model for a simple yet comprehensive approach to help organizations adopt change to ensure business objectives are met.
Learn more, and earn 14 PDUs in a two-day course at PMI.org SeminarsWorld, October 12-13, 2021. NEW - Ready, Set, Change! with April Callis-Birchmeier.
Next Event
Join us at the next PMI Atlanta AEC forum on August 10th 2021
Register at www.pmiatlanta.org/events/event-calendar
---